« All Posts by this Blogger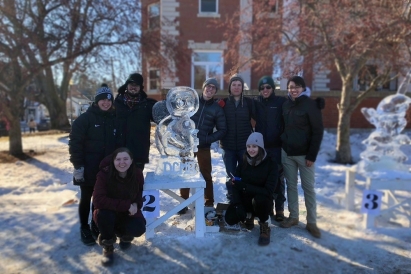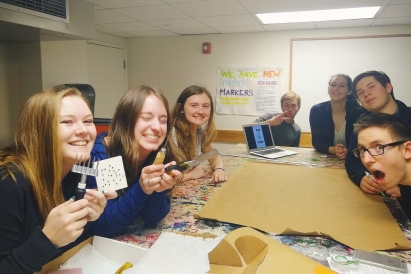 Carve that Ice Ice Baby!!
Oh, the Mardi Gras of the Northeast. Winter Carnival! You can climb to the top of Baker Tower, you can ski for 99 cents or watch amazing Alpine skiers compete for glory, or you can just enjoy a big weekend with big energy and good food. In my case, I chose to spend it learning a new skill: ice carving, as a member of the Marching Band's team!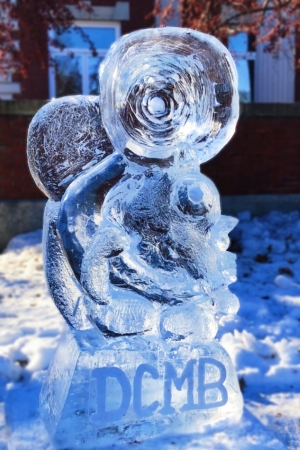 A recurrent member of the yearly ice sculpting competition, the Marching Band decided to brainstorm designs for our sculpture, and the one that stuck around was Scrat from the movie "Ice Age" holding a Sousaphone. Cute, right? And also related to this year's theme, ice age. And also, also related to the band's theme, playing instruments while walking fancy. There was nothing that could go wrong!

We arrived at Collis at 8p.m., Friday, and worked on sketching out our sculpture in kraft paper. It was a real showcase of the band's artistic skills. The sketch done, we headed out to meet our new band member, the block of ice. We all gathered around it, and soon enough a professional ice carver came along with a CHAINSAW to do the first cuts. Yes, a chainsaw. Yes, I got a little scared.  After that Friday the 13th spinoff was done, we got to carving finer details, and we would do so up until 10 p.m., restarting at 9 a.m. Saturday and going on to 2 p.m. or so. Turns out carving is hard work!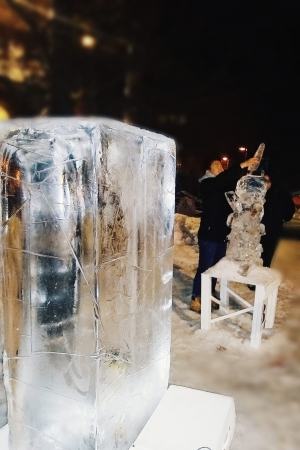 With a second helpful professional cut, we rounded out the inside of the Sousaphone and carved the DCMB, Dartmouth College Marching Band, on the base. The complete result was awesome, and the band would like to state that it always wins, even when the judges announce another name. Jokes aside, an amazing sculpture of Sid from Ice Age got first place from the judges, but we went home walking on clouds. That's because even with limited experience and tackling an intricate design, we managed to make it recognizable, and even got some honks from the cars passing by.
There is so much wintery fun to be had in Dartmouth right now: feeling bored on the weekends is just not a thing. I want to issue three thank you notes to close off this post. First, to the organizers who made this all possible: all we needed to do was offer a safety deposit for the tools, which got returned afterward. Even with limited funds, any group here could participate! Second, I would like to thank the whole band: more than groups of people with a common interest on acting crazy in sports games, we are a group of friends with that common interest to freak out. Many other clubs, such as the climbing team and Moosilauke Lodge Crew, were also there, showing how tight-knit these communities become in Dartmouth. Finally, I would like to thank everyone who dedicated their time to make this year's carving competition the most awesome in 250 years!