« All Posts by this Blogger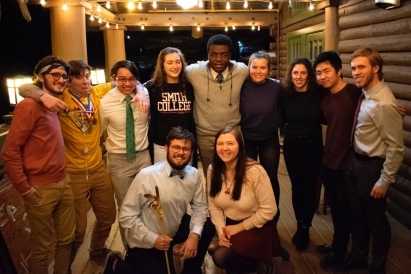 Bucket-Load of Band
Some might believe the college experience has been broken by the current pandemic. I say it merely had to reinvent itself. Orientation week was moved online, students have taken to social distancing on the Green, and many other facets of everyday life have adapted, including clubs. Marching Band had quite a dilemma this fall: our activities are centered around the football season, and the Ivy League is not playing this year. So, what could we do, simply slip away into the shadows?
If you know anything about the Dartmouth College Marching Band (DCMB), you'd understand why this was never an option. The oldest scatter band in the country has been through the Spanish Flu, Great Depression, two world wars… crisis is no stranger. The way we found to keep in touch both with each other and with music was to transition to a bucket band.
As a percussionist, I find this great. Now we are all percussionists! And with both online rehearsals which can be attended from anywhere and on-campus rehearsals, we'll be good percussionists. While online rehearsal is held on Zoom, on-campus rehearsal is held underneath a tent Dartmouth has set up and clubs can reserve. Acoustics may not be as good as at Hartman auditorium, but the fresh fall breeze more than makes up for that. Our first project is the DCMB cadence, which our Band Director Brian Messier courteously adapted to be played on a bucket – with two parts, at that! Logistic on how to march with buckets are being worked out. Strap them to our waist with rope? Awkwardly holding them under one arm? Strapping them to the back of the next person in line, up to the Drum Major? There are many possibilities, and our R&D development is hard at work.
This might be a small example, but it made me so happy to see DCMB was coming back for the fall. All other clubs on campus have also made changes to their operations, but none have gone dark. It comes to show the resilience of Dartmouth students, and our desire to reinforce the strong sense of community we get from this little hill.