« All Posts by this Blogger
BeneFISHal Sides of the Outdoors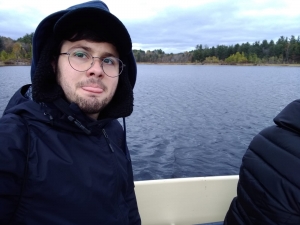 Before college, I was not an outdoors person. Which sounds strange coming from the guy who chose the most outdoorsy college ever, but that is one of the reasons why I came to Dartmouth: to find nature. And nature I found in an e-mail from the Bait and Bullet club, part of the Dartmouth Outdoor Club (DOC). It was an invitation: they were providing boats, equipment, and expertise to ten students interested in fishing. Where else but here would this kind of thing come up? I rushed to to take them up on their offer, and just a few days later we departed Dartmouth, and went fishing for adventure.
We stopped by a DOC building to hook up the boats and equipment to the van, and drove for about an hour to a nearby lake. Our guide from the Bait and Bullet Club explained that he chose this lake because it is shallower than other nearby ones: since it is cold, this increases our chances of finding fish, since they generally hang out in the bottom. After arriving at the lake, we got our boats ready. Three people, including one which knew fishing well, hopped on each one and started paddling. We were shown how to tie fishing knots, how to cast the line, how to reel it in. I couldn't help but rememorate the good times me and my Grandpa spent fishing.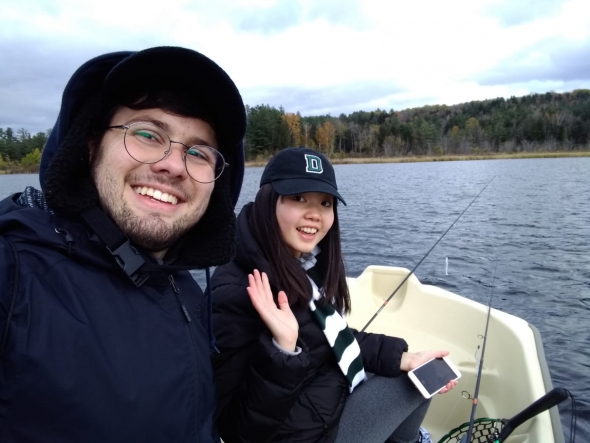 Even with the technique and expertise of a self-titled 'Rural Massachussets Kid,' we couldn't seem to catch anyFIN. After one hour, I started feeling impatient. I mechanically cast my hook in the middle of some reeds, and started reeling back in. A gentle tuck on the line succeeded. Odd. Then another one. Huh. Our guide called me to 'fight it', and so I did: fast reeling brought my opponent closer and closer to me. The rod was bending, my hands were shaking, and I was having a battle of power and wits. This was my prize catch. With splashes of water, the Pickerel finally emerged from the deeps.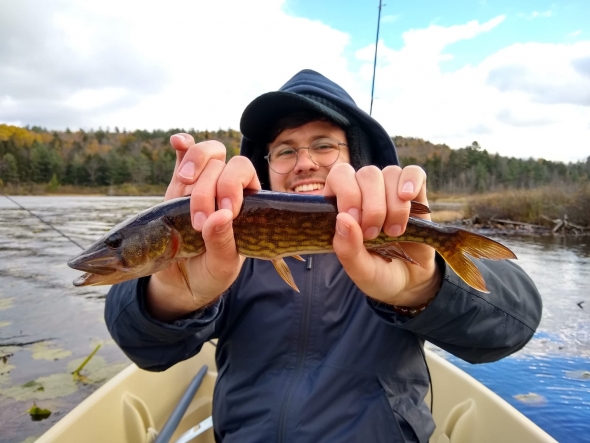 Pickerel, small elongated fish, are known fighters. Holding my catch on my hands, I felt accomplished. I know, I know, it is not a Bass, but for an urban guy like me it is the definition of joining the outdoors. There will be no more fishing trips this season. It is 'too cold, even for cold-hardened (Dartmouth) people', someone remarked. This just means I am even more excited for spring, when fishing comes back up. And who knows, maybe some ice hole fishing action could be on the table for this winter...
Gui, the punniest '22