« All Posts by this Blogger
What's it like having a job as a freshman?
Although I intended to pursue employment early in my Dartmouth career, the thought of maintaining a job during freshman fall nearly rendered me a non-blogger. 
Which would have been tragic! Not for you, maybe, but definitely for me, since this is one of my biggest social outlets when the days are short and the due dates are many. 
(TMI? Don't worry, we can address this right away: having a job doesn't make you a recluse. The weather does.)
Please know that this post is not intended to suggest that you absolutely must get a job. In fact, many students choose not to get a job right away or at all due to very valid reasons including athletic commitments, required lab hours for science courses, unavailability of a desirable position, and incompatibility of job hours with schedules. Classes come first, and a job is an additional commitment that students can make if they choose and if time allows. Importantly, this decision carries essentially no social stigma on campus. If you have a job, great. If you don't, great. Either way, let's get coffee. 
Instead, this post is intended to assuage any worries which may have you wondering about the feasibility of employment for full-time students. Because, yay, it's possible! And yes, it can be really fun. 
This fall term, I had three part-time jobs. This was made possible because two of them (People Places Pines and 3D, the Admissions Magazine) allow me to work from any location, at any time. The third position, as a Student Assistant for the Magnuson Center, requires only two shifts per week. 
I feel very fortunate to have been offered these positions. They were highly compatible with one another and in total only required an average of 10 hours a week. This leads me to a very important point: there are so many jobs on campus that the expectations in terms of hours can range from 1 hour a week to 20. My two cents would be simply to find a position that: 
$0.01: You are interested in 
$0.02: You can commit to (your intentions match your employer's expectations)
This leads of course to another essential question: where does one find jobs? 
With virtually no hyperbole, I can assure you: anywhere. Job opportunities flutter from the bulletin boards in every single dorm building (which I know because during one shift I was responsible for papering these with flyers.)
Dartmouth holds Job Fairs—on campus, near campus, summer internships, etc—with regularity during the start of term. 
You can sign up for the Student Employment listserv which notifies you any time a job is available. Requests through this line are generally of the smaller sort. Babysitting, dog-walking, leaf raking, etc. have all come through my inbox in the last couple weeks. Below the job information (pictured) is contact information for the employer, which makes both job requests and fulfillment very straightforward. 

There are also opportunities to work with on-campus organizations such as the Dartmouth Outing Club—for example, as a ski instructor for other Dartmouth students. 
Alternatively, if you're interested in food, the Class of '53 Commons (colloquially "FoCo") often hires event staff, and King Arthur Flour café's cheery sign has regularly tempted me to consider applying. If you prefer customer service in quietude, the libraries have several open positions each term for students.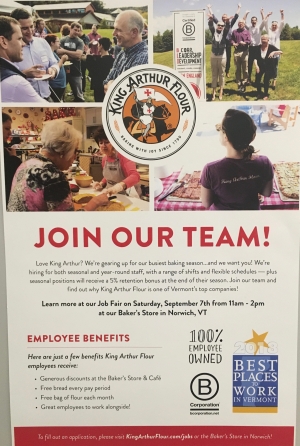 Last but not least for this post, don't forget that the town of Hanover is only a couple hundred feet from the Green! Pursuing "Help Wanted" signs is a way to meet some of the nice people who contribute to Hanover's community, and might even yield an awesome weekend job.
As to the experience of working as a Dartmouth student, it's been truly enjoyable. My employers have been without exception kind, understanding, and mindful of the occasional conflicts which occur when employing students. It's been a pleasure to work with them and I've found the work fun and exciting. All of which is to say that if you'd like to hold a part time job, doing so offers a great excuse to listen to the Dolly Parton hit "Nine to Five," and can also balance well with attending classes, studying, and making friends!
I think fall may be my favorite season on Dartmouth's campus. Campus is breathing with new life as we witness the gorgeous transformation of lush green to crisp orange leaves!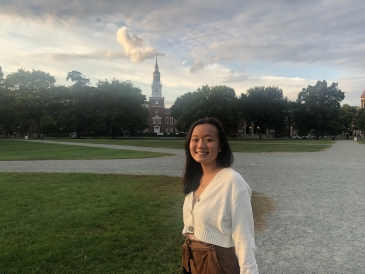 Sophomore year here I come!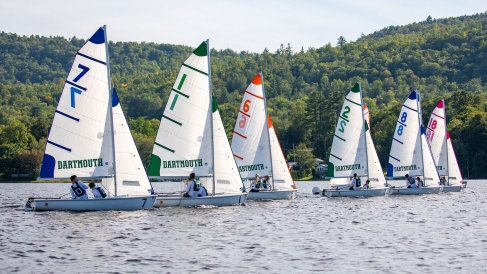 Dartmouth offers summer sailing lessons to undergraduate students!

I think a big elephant in the room is the presence of Greek life. Everybody knows it exists; it just looms in the background of the discussion sometimes.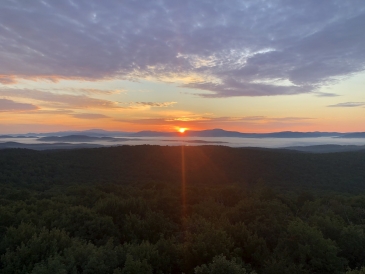 I'm almost at the end of my second summer in Hanover and I'm looking back at all I've enjoyed here in the gorgeous summer months.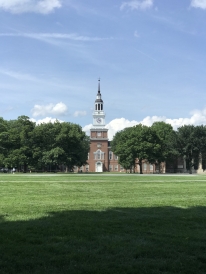 First library in my series on Dartmouth Libraries I frequent: Baker Library!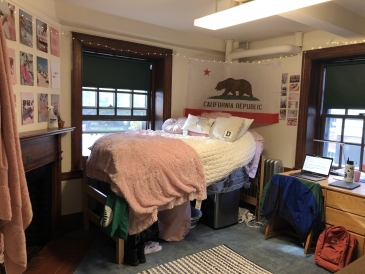 For many of you, moving away to college means more independence, living away from home, and perhaps sharing a living space for the very first time.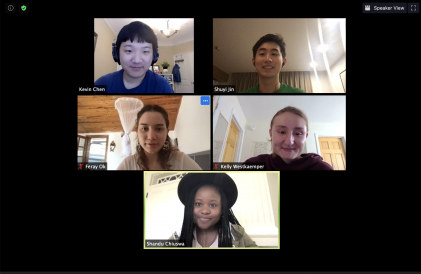 The Paganucci Fellows Program, which gives a group of undergraduate students the opportunity to engage in a paid consulting project with an international non-profit organization.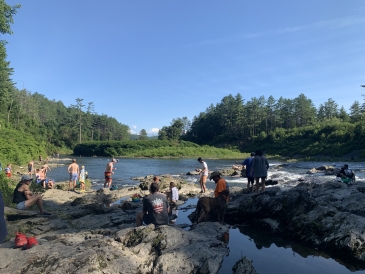 Curious to see what a week in the life looks like during sophomore summer?