« All Posts by this Blogger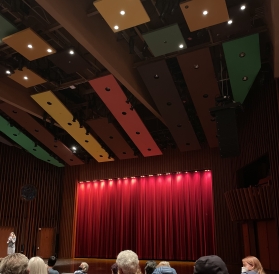 Telluride at Dartmouth
The Hopkins Center for the Arts ("the Hop") at Dartmouth is a vibrant venue for theatergoers, film buffs, and music fans alike. With its ever-rotating offerings and lively audiences, students have the opportunity to enjoy the arts on big screens and in gorgeous venues, supporting classmates in a variety of a capella, dance, orchestra, and theater shows, and watching visiting performances, including upcoming operas and violin sonatas. 
This past week, I attended the opening night of Telluride at Dartmouth. Colorado's famous Telluride Film Festival, a dream come true for movie lovers, comes to Hanover every fall during this decades-old tradition. Spaulding Auditorium, one of the Hop's four theaters, is a 900-seat concert hall featuring gorgeous acoustics and an appropriately scarlet curtain drawn before an enormous, Telluride-worthy screen. 
The Hop is screening a new film each day for the entire week of September 23 - September 30, 2022. This year's seven Telluride offerings are The Wonder, Bardo, False Chronicle of a Handful of Truths; Women Talking; Tori and Lokita; Wildcat; Tár; and Icarus: The Aftermath. 
Don't be surprised if the titles sound unfamiliar – Telluride at Dartmouth allows audiences to screen films often before they've been reviewed and, in many cases, made available to the public. It's rare to see a film these days without being saturated with reviews in advance. (For instance, I've never attended opening night of a movie before and have grown pretty used to having most of the biggest blockbusters spoiled for me ages before I watch. It's my own fault for reading detailed reviews--I never learn!)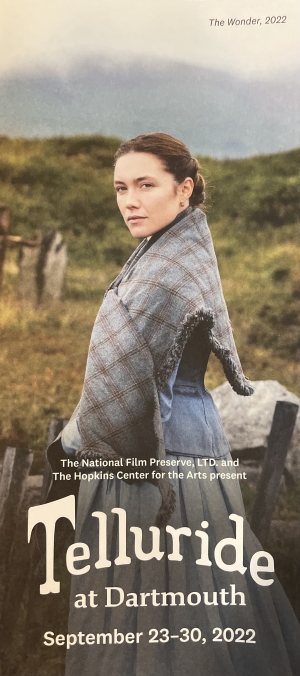 As a result, I walked into Friday's showing of The Wonder with a curious lack of information. I knew almost nothing of the plot, aside from a helpful promotional poster on the brochure. No spoilers, but the film was striking. I'll be interested to see the reviews when they come in, and feel lucky to have experienced the film before the world–a rare experience, but the sort of amazing opportunity Dartmouth students and visitors have thanks to the Hop's commitment to the arts. 
Both a celebration of film and community, Telluride was a phenomenal experience. I saw many of my classmates in the audience, as well as families and moviegoers from Hanover and the Upper Valley. The Hop is committed to offering accessible arts opportunities to students. While admissions for the general public are $15, student tickets are $8 per film, or a $40 pass for all seven films (compared to $75 for a general pass). Witnessing the cutting-edge work in Dartmouth's film department through screenwriting and theory coursework has been a privilege; to see it complimented by the Telluride experience this past week was enormously exciting. If you're considering applying to Dartmouth or visiting in the near future, I recommend visiting the Hop to learn more about upcoming performances!