« All Posts by this Blogger
Please tell me she's not using snow as a metaphor
Yes, dear reader, I am! 
It's difficult not to think about snow at the moment. A quarter-turn of my head toward the window affords a view of a million snowflakes. The flurries are so free and full they suggest far more to come. Already the ground is obscured, snow swirling in a wintry embrace that gently demands attention. By shifting my focus toward the soft white drifts, the floating flakes turn my thoughts away from other things. 
I'll be honest: returning to Dartmouth in freshman winter carries not so much the tang of adventure as the knowledge of beginning a second ten-week journey. The freshman class, a bit more seasoned this time around, seemed at first to lack the bustling energy of fall. Rather, we've taken a few days to adjust to our return, to Dartmouth as our intermediate home and this winter as our new environment. 
Remember in Narnia, when Lucy convinced her siblings to follow her through the wardrobe, at which point she had already visited the wintry wonderland and was a tad wiser about her surroundings? Less enamored and ready to explore? 
Lucy, you're a girl after our own hearts. 
Dartmouth is a veritable winter wonderland full of fun people and crammed with equal parts studying and merriment. But when I first arrived back on campus, I cherished every hour of sunlight and thought constantly of home. My first day of classes was spent reminding myself how to study. Slightly restless, I wondered whether I had done right in returning, or whether winter term was impossible. What if I wasn't smart enough? Or I'd stopped caring about schoolwork? Or I was no longer cut out to be here? You get the idea. I had springtime on my mind and hadn't yet found my academic footing. 
And then came the snow. Despite a sunny morning, campus was hidden under snowflakes upon snowflakes by afternoon. More pressing than my need for a hat was the realization that the snow came just as I began to feel more comfortable with returning. It swirled around me, reminding my senses of the season… and my mind of the task at hand. 
Cue the metaphor. I'm sure you've received brochures reminding you of Dartmouth's "profound sense of place." And it's true. Being at Dartmouth, similar to being surrounded by snow, turns my attention to my surroundings. The snow offers a visual example of Dartmouth's effect: it is a catalyst for focus, a renewed sense of gravity and purpose which fortifies students for another term. 
So here we are, snow and all, hopeful as we return our minds to textbooks, lectures, friendships, and Dartmouth itself.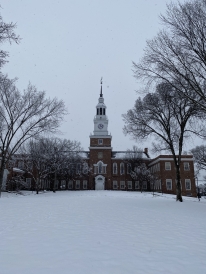 As we near a Fall term that is shaping up very differently than any previous term, I'd like to take a moment to reflect on 20W... the last time I was on campus, and the first time I truly hit my stride at Dartmouth.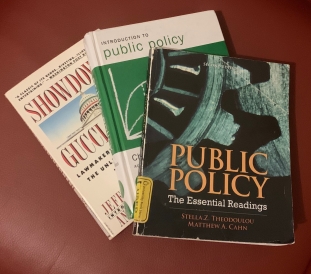 One of the most interesting classes I have taken so far at Dartmouth has been PBPL 5: Introduction to Public Policy, which is taught by Professor Charles Wheelan.

I have written a few posts about transitioning to the Northeast weather, but after this winter term, I thought I would talk about how I stayed active outside this year! If you're nervous about everything snow at Dartmouth, I hope this helps!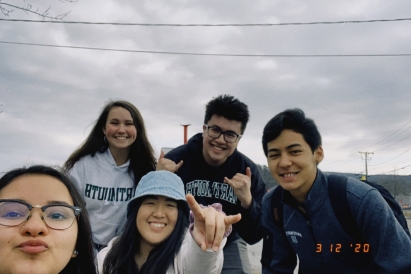 Even if I won't see my fellows NADs (our powerful Indigenous community), Questies (Questbridge ʻ23s represent!), and First-Generation Low-Income (FGLI) folks for a little while, you should all know that you make Dartmouth a wonderful place to be. 

Here are a few of my photos that I think show unique aspects of my Dartmouth experience — the views, fun times, and friends!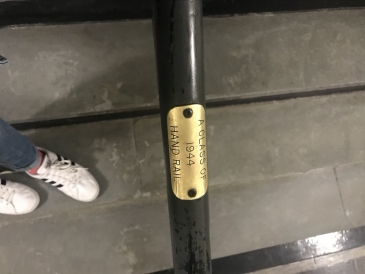 When I think of "old" at Dartmouth, I think of the many parts of campus that are rich in history. So this week, I went around to a couple of locations on campus to capture some of the historical parts of campus and their history.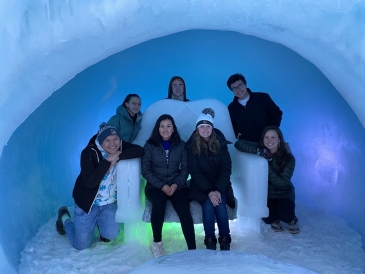 It's almost the end of my first winter here in Hanover, but that doesn't mean my friends and I didn't hop on the opportunity to go check out some ice castles an hour and a half north of us.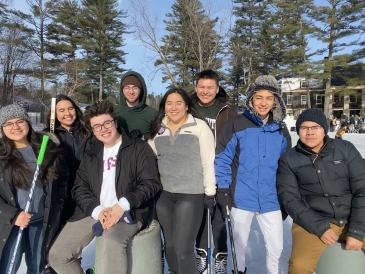 It's not Dartmouth without the D-Plan, and it's not college without course selection. Let's talk about picking classes.

Pond Party is a family-friendly Winter Carnival tradition, hosted by the town of Hanover. It takes place at Occom, a pond set within a residential area south of the Dartmouth golf course and north of the main campus.