You are here
« All Posts by this Blogger
The Little Things
This is it, lovelies. Week 10. How the term has flown by! To those of you applying to colleges, I hope you get the chance to rest soon, close your dozen tabs of choice and enjoy the weather (depending on your hemisphere, it may look similar to Hanover's…)
Finals begin this week. I am deliberately not dedicating this post to stress or studying; I'll save that for personal time. But just so you know, I no longer think I will be an Econ major, and my current companion of choice is a Chinese textbook.
Anyway! 
I'm sure no matter what year you are, finals week is stressful. No doubt you already know that. Funnily, at both my high school and at Dartmouth, administration has shown their support by choosing a day of finals week on which to make complimentary pancakes for students. Something about syrup-sticky hands always made my morning math final seem somehow less frightening. 
And that brings me to my point for today's post: finding the little things to motivate you through stress and bring your commitments into perspective. 
For example, this morning campus woke up to light November rain. Grey mist floated leisurely across the roads, bundling the trees in warm foggy wear. But by the time I went outside, Hanover was greeted by some of the largest snowflakes I have ever seen. Despite the fact that I had somewhere to be, I stopped in the abandoned walkway and turned my face up to watch. I was looking into a white wonderland, a pure canvas that went up, up, up, increasingly obscured by fluffy flurries.  

I wasn't the only one absorbed in the spectacle. Around campus, people held out their hands, took videos, and laughed as large flakes clung to their coats. Comradery enveloped the campus, a phenomenon which occurs with every benevolent snowfall.

Several of my posts have basically been odes to the weather here. But it really is so gorgeous. And there's nothing like centering yourself by settling in to watch the spectacle of nature.   

This morning, my wait in line for a decaf latte (thank you, meal swipe!) resulted in three warm conversations with friends I hadn't seen in weeks. 

Freshmen are automatically enrolled in the "Ivy Unlimited" meal plan for their fall term. This means they receive 3 meal swipes a day, or unlimited access to the class of '53 Commons. Outside the meal plan, you can virtually avoid spending any money on food. 

One of my new hobbies is creatively adapting a meal swipe to dorm-room snacks—as the temperature drops, it's always nice to have some food around for nights in. 

My favorite method is to eat one or two meals at FoCo and save other swipes for *decaf lattes*, nuts, yogurt, and other dorm foods. And hot chocolates, which are a downright necessity now that it's snowing. So far my favorite has been from Novack Café. It was late, there was no line, and I nearly tap-danced back to my dorm after the barista topped it with a generous swirl of whipped cream. Yum!

I'm no yogi. Yesterday I was flummoxed by "butterfly pose," which weighed heavily on my self-esteem because back in elementary school, that was pretty much as ubiquitous as "crisscross applesauce." 

I just left my desk to make sure I could still do that. Yes. 

The great thing about excerise, as we all know, is that it doesn't matter how good you look doing it: the result is the same. Happy endorphins! Which seem pretty essential to me, especially during finals week. Exercising offers a healthy way to feel productive even if you're momentarily stymied by a certain assignment—and often it lends a positive mindset to the task. 
Wow, my freshman year at Dartmouth has really flown by! Towards the end of summer 2020, I received a warm welcome email from my Orientation Peer Leaders inviting me to join a Zoom call with around ten other of my classmates.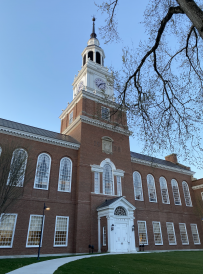 As we approach graduation day, I continue to reflect on my time at Dartmouth. I've learned a lot about myself over the course of the last four years, but here are three of the most important things I've come to realize...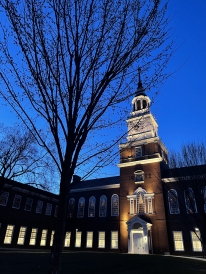 In no particular order, here are a few places and ways I love to spend my free time as a student at Dartmouth. I hope this post can give you a glimpse into how wonderful campus life can be!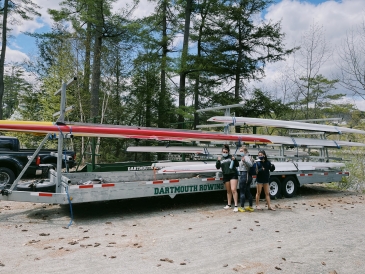 Here is a glimpse into the gorgeous outdoors that sits on and hugs Dartmouth's campus. On this fine May afternoon, my friends and I paddled down the Connecticut River for the first time now that the Ledyard Canoe Club opened services. We had a blast!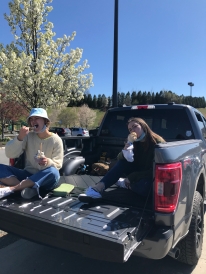 Spikeball on the Green, cherry blossoms in front of Baker….as spring is arriving here in the Upper Valley, I thought I'd write a quick post about my favorite things to do near campus this time of year!

This week, I had the amazing opportunity to take a rock-climbing class at one of the country's best climbing spots: Rumney, New Hampshire.

The trees are full, flowers are blooming, and the weather is gorgeous.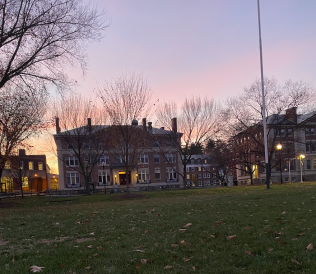 Let's talk about job offerings on campus and how to secure a position!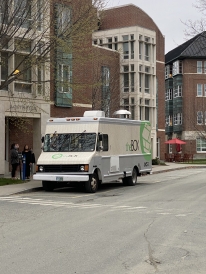 Something fun and new that I thought might be fun to write about is theBox, a food truck founded by students from Dartmouth's Tuck School of Business.