You are here
« All Posts by this Blogger
The Little Things
This is it, lovelies. Week 10. How the term has flown by! To those of you applying to colleges, I hope you get the chance to rest soon, close your dozen tabs of choice and enjoy the weather (depending on your hemisphere, it may look similar to Hanover's…)
Finals begin this week. I am deliberately not dedicating this post to stress or studying; I'll save that for personal time. But just so you know, I no longer think I will be an Econ major, and my current companion of choice is a Chinese textbook.
Anyway! 
I'm sure no matter what grade you're in, finals week is stressful. No doubt you already know that. Funnily, at both my high school and at Dartmouth, administration has shown their support by choosing a day of finals week on which to make complimentary pancakes for students. Something about syrup-sticky hands always made my morning math final seem somehow less frightening. 
And that brings me to my point for today's post: finding the little things to motivate you through stress and bring your commitments into perspective. 
For example, this morning campus woke up to light November rain. Grey mist floated leisurely across the roads, bundling the trees in warm foggy wear. But by the time I went outside, Hanover was greeted by some of the largest snowflakes I have ever seen. Despite the fact that I had somewhere to be, I stopped in the abandoned walkway and turned my face up to watch. I was looking into a white wonderland, a pure canvas that went up, up, up, increasingly obscured by fluffy flurries.  

I wasn't the only one absorbed in the spectacle. Around campus, people held out their hands, took videos, and laughed as large flakes clung to their coats. Comradery enveloped the campus, a phenomenon which occurs with every benevolent snowfall.

Several of my posts have basically been odes to the weather here. But it really is so gorgeous. And there's nothing like centering yourself by settling in to watch the spectacle of nature.   

My gift to myself this morning was a decaf latte, courtesy of my meal swipe. The wait in line resulted in three warm conversations with friends I hadn't seen in weeks. 

Freshmen are automatically enrolled in the "Ivy Unlimited" meal plan for their fall term. This means they receive 3 meal swipes a day, or unlimited access to the class of '53 Commons. Outside the meal plan, you can virtually avoid spending any money on food. 

One of my new hobbies is trying to creatively adapt a meal swipe to "special occasions" and snacks—as the temperature drops, it's always nice to have some food in the dorm for meals in. 

My favorite method is to eat one or two meals at FoCo and save other swipes for *decaf lattes*, nuts, yogurt, and other dorm foods. Especially special occasions may even require a hot chocolate. At the time of writing, I've only gotten one from Novack Café, and it was delicious. It was late and there was no line, and I nearly tap-danced back to my dorm after the barista topped it with a generous swirl of whipped cream. It truly can be the little things, you guys. 

I'll admit, I don't have Airpods, but many people on campus do and choose to set their walks between classes to music. I don't skimp either, tending to listen to music in my room for approximately three hours a day. No matter the method, Dartmouth students are pretty attached to music. It's become something I look forward to while washing dishes, folding laundry, exercising, and studying. Though I don't study well with music, I study well because of it. It's an excellent motivator. "After learning this lesson, you can listen to your country playlist." What better, right? Once the work is done and done well, relaxing to a few songs before moving on to the next commitment is an easy way to add levity to an afternoon.

I'm no yogi. Yesterday I was flummoxed by "butterfly pose," which weighed heavily on my self-esteem because back in elementary school, that was pretty much as ubiquitous as "crisscross applesauce." 

I just left my desk to make sure I could still do that. Yes. 

The only reason I still exercise is because it doesn't matter how good you look; the result is the same: happy endorphins! Which seem pretty essential to me, especially during finals week. Exercising offers a healthy way to feel productive even if you're momentarily stymied by a certain assignment—and often it lends a positive mindset to the task. 

Now that the sun sets around 4:30, sleepiness sets in earlier on campus. I try and put on my "college student" façade but have to actively remind myself that 8:00pm is not a decent bedtime. (If only, you guys.)

There's a lot of fun going on around campus at most hours of the day—houses hold dessert nights, clubs have meetings, the HOP shows hit movies for discount prices, parties, etc. — but students can partake as much or little as they like. 

I've attended most of these events, and they've all been really fun. But after a busy day, the thought of an early night in can be just the right motivation to stay focused.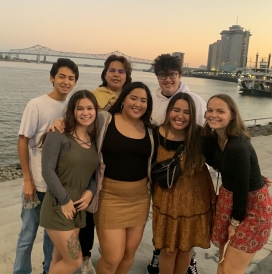 But at the end of the day, when people ask me what my favorite Dartmouth memories are, I'm always thinking about the place. Ice skating, pink sunsets, riverbanks, or canoeing? That's my highlight reel.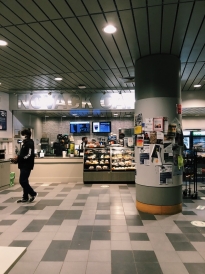 In a world where proper social distancing is so important, Novack Café has fulfilled a unique desire for current on-campus students; it's a place to study, hang out with friends, and grab a snack—all while staying COVID safe.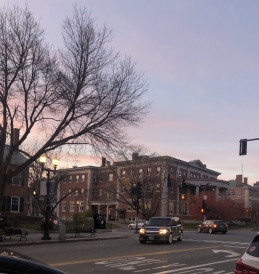 The last week of October was especially ~spooky~ as I was able to find more time than usual to enjoy my weekend with friends and the small-town-charm of Hanover.

While the student body at the College may be relatively small, students here recognize that their vote can hold a lot of weight in New Hampshire, a classic swing state.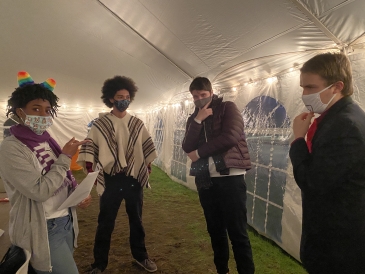 After walking around campus all day in eye-catching attire, we headed to a Murder Mystery night hosted by Phi Tau (a fraternity) in one of the tents scattered around campus.

On Friday, a few friends and I decided to take part in an event held by Collis After Dark, which organizes a lot of the student programming on-campus.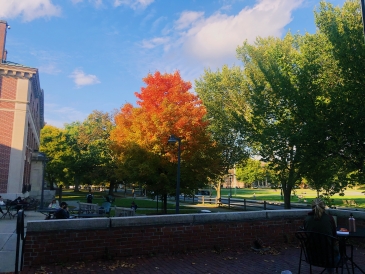 My personal visit to Dartmouth was a huge factor in my decision to apply, so in honor of Week 7, I hope this blog post can virtually illustrate some of what Dartmouth has to offer in seven images – worth 7,000 words!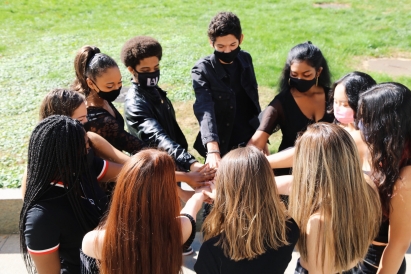 As a member of multiple performance groups on campus, I thought I'd give you a bit of background info on the opportunities here and discuss what we've been up to!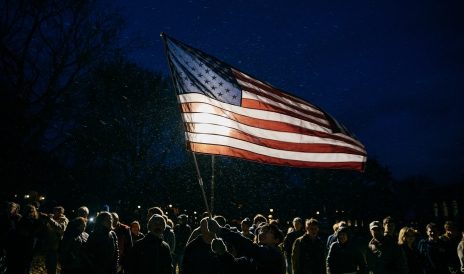 In honor of Veterans Day, I was able to interview student veteran Eugene Lovejoy '22 to hear about his experiences in the United States military and as a Dartmouth student. Read on to learn more!