« All Posts by this Blogger
Keeping motivated in the home stretch
Banged up blue thermos of tea in one hand and worn out old beach blanket in the other, I've taken myself today to one of the Pacific Northwest's many beaches for the sake of academic edification. I've sent myself to this otherwise empty beach to remedy a problem I've been having: these days, the second I resolve to Get Something Done, time seems to fly and suddenly it's a new day with new work to be done. Perhaps you feel the same? 
I'm sat here now determined to make something of this hour and the next and the one after that. (After which I will likely be Out of Steam.) In case you're wondering what a Pacific Northwest beach looks like, imagine a typical beach, and then add lots of rocks, and water which isn't navy nor gray but some thoughtful shade between the two. Though our water is rarely warm and the coast is composed of nothing close to "white sands," beaches proliferate round little inlets and sounds throughout Washington. Many of these public beaches have fallen quiet since the onset of autumn. My only company right now is a fallen-apart pumpkin which, considering it's only one day after Halloween, probably arrived at its current state by way of being thrown off the rocky cliff above me. And my dog is here too, of course. She finds the pumpkin quite a bit more fascinating than myself.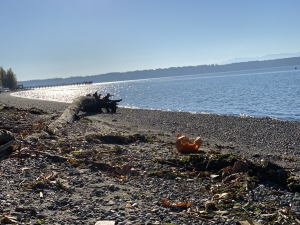 Normally I wouldn't have to set aside these hours for academic or creative pursuits. They'd just happen, the way they're supposed to for a college student. But remember how I've been going on (and on and on) about how "the days are long but the weeks are short?" –With the onset of week eight, that pattern becomes a bit flipped. Now that we're all champing at the bit for the end of term, it's become coy and fleeting, tiptoeing further out of sight with each new assignment. I've been getting more easily distracted from my work. (A second ago I looked up—just to take a sip from the thermos—then to look at the water—and wouldn't you know but my laptop skidded right off my knees and into that endless sea of October rocks.)
Whether you're missing home or dreading leaving campus, you may be finding it a bit tough to stay motivated right now. Whatever study-bubble it's so easy to weave around oneself in weeks 1-7 has burst and fizzled away, leaving me suddenly eager to Facetime my Dartmouth friends all around the country or read that book that's finally available on Libby. Which is all well and good, of course, but I've had to face the facts that I'm actively trying to distance myself from my studies in order to fill myself up with motivation and optimism, the better to stare down and wade through the next couple of weeks. 
A little flock of ducks is swimming past. They're very grey and brown, the colors of mud-in-the-water, which makes me think they're females. Probably a book club. Maybe reading something local like Where'd You Go Bernadette. 
--!
Some of you may be questioning whether you can keep up this pace not simply for the next two weeks, but (if you're a freshman) the following two terms. That, too, is super normal. I love the Dartmouth community and cannot wait to see everyone again, but it's looking like I'll be staying on this coast for the Winter term, which means Facetime and Zoom will have to suffice for a little longer. Though we're all very committed to our studies it's tough to face that reality, to buckle down (again) for a term away from campus. But you can do it! I know you can!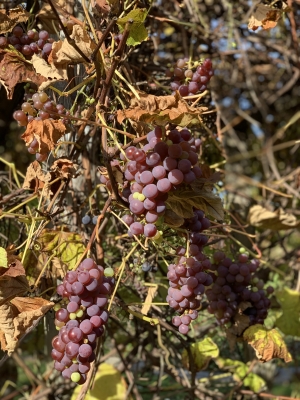 For today, here's my advice: do your best through the next couple weeks, but don't make any final decisions about Winter term while in the midst of finals. 
As always, I'm cheering you on! 
Dartmouth is a very outdoorsy place. However, you don't need to be involved with any outdoor clubs to fully experience the outdoors Dartmouth and the surrounding area have to offer. Sometimes, you just need a free day and some friends!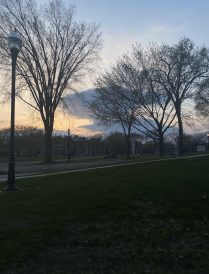 As I navigate a virtual senior spring term, I'm taking account of all of the fun ways to enjoy this term. Here's a list of three of my favorite spring activities!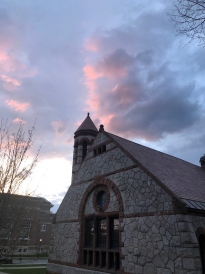 Considering that we're almost halfway through the term, I thought I'd do a little what I do in a day, especially since I wasn't on campus last term.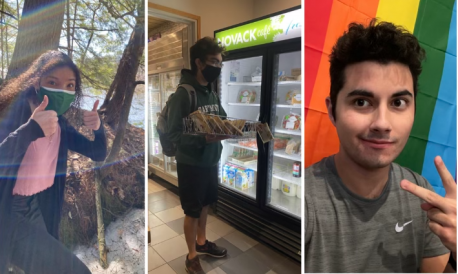 Today, I decided to walk around campus and asked my friends what their favorite aspect about Dartmouth is!

With decision day approaching, I decided to transport back to a year ago and share why I chose Dartmouth over other schools.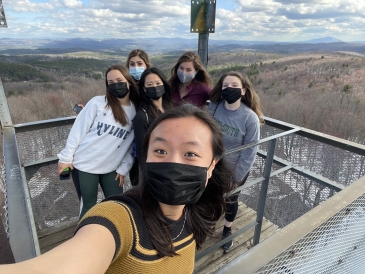 Dartmouth is home to a diverse range of students that will become your lifelong friends. For this blog post, I thought I'd interview a few of my fellow '24s to give you a glimpse into the crazy awesome people that make Dartmouth, Dartmouth!

In terms of fears about going off to college, I've noticed some recurring themes, both from my conversations with '25s and from my own experience. Read on to see my responses to some frequent questions and concerns!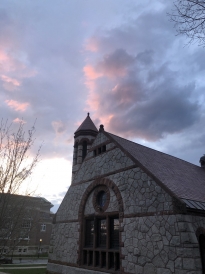 "Big Data Science in Hydrology" pulls content from computer science, environmental statistics, and hydrology—the study of the movement of Earth's water—to form a really interesting interdisciplinary class.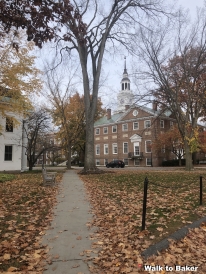 Because of the pandemic, visiting the College is not possible and can make the process of choosing a college more difficult. Therefore, I thought I would post several photos of what Dartmouth looks like to get a sense of the environment.