« All Posts by this Blogger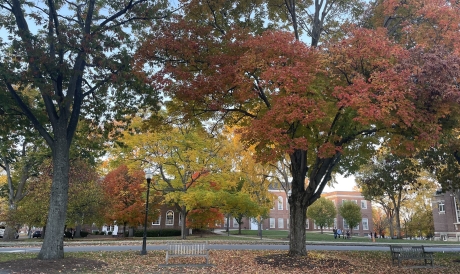 Fall on Campus: Autumn Leaves and Rare Texts
Dartmouth coursework has an established tradition of encouraging students to engage with its repertoire of resources. Standard fare for this is visiting the thousands of books available via Baker-Berry Library to students. It's easy to request a book at the circulation desk, or (for those brave souls in want of adventure) venture into the Stacks: shelves of books located on all Baker levels where students can study in the quiet and access thousands of books organized by language, time period, and genre. I've spent plenty of time exploring in the Stacks this term, forging into an eight-foot tall, extremely well organized labyrinth of books with nothing but a reference number of the Dewey Decimal variety. Often I get distracted by books on my quest, sitting down in a nearby chair to flip through a rare find. I'll surface for air only when a glance at the time reminds me I'd intended to check out a translation of The Canterbury Tales or a one hundred year old book gifted to Dartmouth by its author, signature glowing in sepia ink beneath the library's signature sticker. 
As if that weren't enough, Dartmouth courses also encourage students to engage with rare texts through the Rauner Special Collections Library. Dartmouth's rare books collection includes more than 100,000 volumes and is an essential source of scholarship at Dartmouth and beyond. Families who toured the school during Dartmouth's recent Family Weekend had the opportunity to attend an event at the Special Collections Library and see texts for themselves which are always accessible to students, to great reviews.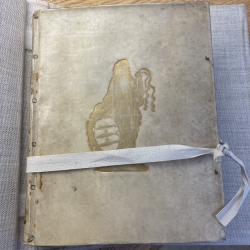 Recently, my class visited Rauner for a history course, hurrying through pumpkin-bright foliage to the white-columned facade of the Special Collections Library. Inside, we were greeted by book cradles within which floated a selection of centuries-old works. I spent the class flipping through a first edition of one of Martin Luther's bibles from 1584. Looking at five hundred years' worth of history reinforced the texts we're reading in class not as figments and long-forgotten tomes, but museum-worthy touchstones. Through these, Dartmouth students can connect with the past, exploring complex themes and layered histories from a contemporary perspective. 
My peers and I have also had the opportunity to visit the Hood Museum of Art, where a helpful curator gathered relevant Renaissance-era pieces to share with us during our class. The private museum tour of artifacts tailored to our syllabus was a mind-boggling experience. Students aren't required to attend for class alone, however – whether it's to see a first edition of Austen's work or antique copies of Beowulf out of idle curiosity or long-held interest, Rauner librarians are incredibly helpful in connecting students to priceless texts. As a student, it's easy to hear about Dartmouth's famed collections and consider them inaccessible, but the commitment by professors and curators to share these pieces with students reinforce our connection to a collection of global scholarship. I've been extremely grateful for the opportunity to engage with Dartmouth's collection and highly encourage visitors to sign up for a visit, or new students to stop by and speak with Rauner staff to learn more.