« All Posts by this Blogger
Chores: In College vs. At Home (ft. potential dorm life hints)
As I type this, I'm watching my little sister vacuum the carpet of our room. 
"Let me know if you need help, okay?" 
"I've got it." The vacuum, one of those octopus-like ones that stretches a mile to the wall plug-in, dwarfs her. I admit this process takes longer than does vacuuming my dorm room, but I prefer it. Even though she did miss a spot. I'll tell her later. 
Chores are a part of college life few people talk about. While it's pretty basic, this return to home has reminded me of the difference between home chores and the college variety. In case you're wondering about the expectations for your first time living away from home, this post is for you!
Chores at home can vary widely, depending on whether you live in a city, in the suburbs, on a farm, by the beach, etc. 
But from what I've heard, chores are pretty similar across our dorms. 
At Dartmouth, your living situation can vary depending on whether you're living in a single (one person in one room), a one- or two-room double (two people in one or two rooms), a two-room triple (two rooms for three people, the perfect setup for some really fun sleepovers!) or a suite. Personally, I'm in a two-room double, so my roommate and I each have a room to ourselves but our doors are joined, and to access the hallway she has to walk through my room and politely listen to whatever music I happen to be playing at the time (overwhelmingly country.) It's a lot of fun! 
Whatever the living layout, the chores are pretty standard. If you're coming from a boarding-room situation or a family who likes to look in your room to ensure it's tidy, don't worry—there's no chore curfew, and you're welcome to attend to yours whenever and at whatever capacity suits you.
Dishes
At home, dishes are my first morning chore and my last evening one. My family goes through lots of dishes, so I've spent hundreds of hours with a sponge in hand, getting soap on my clothes as we clean up after dinner. To me it's a tradition I love more than one probably should. 
At school, I tend to make my own coffee (with a Black & Decker "paycheck purchase" coffee pot that I use literally every day) and meals when possible, so I accumulate a few dishes each day. Literally just a few. The amount of time I spend doing dishes per day rarely tops ten minutes, and you needn't do any at all if you eat at the cafeterias, which have lots and lots of delicious options. Even so, I'd recommend picking up a small bottle of dish soap, a couple sponges, and a dish towel for school. While your dorm's kitchen tends to be pretty well equipped with kitchen supplies, it's always nice to have a little stash for midnight mug-cleanings. 
Vacuuming 
 At home, it's a half-hour wrestling match with the aforementioned octopus vacuum. Very satisfying but not a daily endeavor, as I've gotten pretty good at substituting a stiff sweep for good vacuum in the interest of saving time. 

At school, dorm rooms generally are carpeted. I belatedly realized this doesn't mean sweeping is impossible, but rather that you have to exert a little more effort and look a little more ridiculous for basically the same result. Though I recommend a vacuum, you do not need to purchase one. The custodian's closet in your residential hall often has a nice one if necessary. My roommate and I got ours for $5 at the yearly "Sustainability Sale," at which upperclassmen who no longer need storage bins, vacuums, cabinets, mirrors, and other fun things sell them for incredible bargains to whomever has use for them. It's a really fun and really popular tradition—shoutout to my roommate, who got in line early in the morning in order to score us the smart red little vacuum. 

Anyway, I vacuum a couple times a week. You really should not need to do this unless, like me, you like eating cereal and rice crackers and every other crumb-prone food at your desk while studying away. 
Laundry 
College students are notoriously fretted over for not being able to do their laundry. Obviously, this isn't true, but there are a few things that make laundry a simpler and more efficient process while you're away. 
At home, my siblings and I do the family laundry, which is my version of meditation. It's incredibly calming and allows me to listen to lots of music. Still, I had to adjust to the slightly different college laundry process (mostly the vague insult of walking down the hall with my laundry bag hung over my shoulder like Santa Claus, a problem only I seem to suffer from). Dorms are equipped with their own laundry rooms, so there's no need to run through the snow to switch the wash. It's really convenient; you tote your little bag down to the laundry whenever it suits you, load your wash, use your student ID card to pay for the load ($1.50 per washer cycle and dryer cycle, so typically a sum total of $3.00 to $6.00 per week for laundry), and let the bubbles begin!
What to bring: Laundry basket/bag (I'd recommend a bag, as it makes carrying easy and you can throw the bag itself into the laundry every week to keep it nice and fresh) a bottle of detergent, and dryer sheets if you like. Dartmouth also gives you the option to sign up for a laundry service instead which collects, washes, and returns your laundry regularly throughout the term. 
Grocery shopping
Okay, most people don't actually do this. If you're on a meal plan, there's no need for it. That said, I like to go with a smaller meal plan and budget for groceries, because it allows me to cook dishes that remind me of home in between delicious cafeteria trips. I will be the first to admit that my cooking habit stems from nostalgia rather than talent—my food is not nearly as good as that which is readily available at every Dartmouth Dining Services location. 
But! If you are so inclined, the Hanover Co-op is a darling, super well stocked grocery store less than a mile from campus. It's a beautiful walk and there's also a bus that can turn the fifteen minutes into barely five. It's an excellent place to stock up on snacks, which as far as I am concerned are a must, and things like tea and hot cocoa which are simpler to get in the middle of the night from the comfort of your dorm.
Thanks for reading!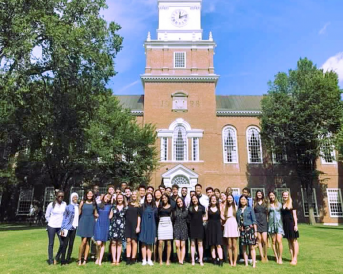 Here are 5 weird, small, and perhaps surprising things that make Dartmouth home for me.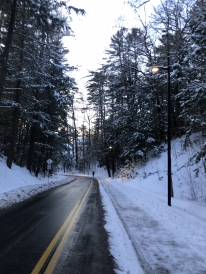 One question that prospective students tend to ask is: "What exactly is there to do in a small New Hampshire town?"

This week, I wanted to give you an example of what a day at Dartmouth (albeit long-distance Dartmouth) looks like.

I've been reflecting on the lovely past four years of my life, and I came up with this list of seven things to help you succeed and thrive at Dartmouth.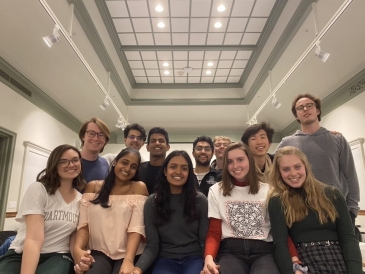 wanted to try something new and expand my horizons, so I decided to give it a shot. And I am so glad that I did!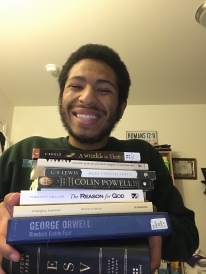 Even though I am not in Baker, that Dartmouth spirit of reading and learning is alive and well.

After talking with our new improv president for a while, we decided that we would do a Zoom show. Not only does performing allow me to share my comedy with my friends, it is just, in general, a great time!
It took a couple weeks, but then I arrived at the (rather obvious) conclusion that school shouldn't preclude my making pancakes or doing chores or watching Frozen II. Zoom does not render Dartmouth some unsympathetic entity.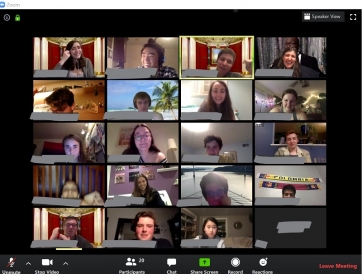 Spring has brought about many, many changes. For me, luckily, my extracurriculars are still on: same time, same people, except now over Zoom.