« All Posts by this Blogger
Bringing Your Sister to School
Hello readers, 
Today I'm here with a special article featuring my sister Carolina, who has just recently committed as a member of Dartmouth's class of 2024. 
I am, of course, over the moon to be going to the same college as my sister. 
Today's post features a little Q+A about each of our decisions... thanks for reading!
Have you ever been to Dartmouth

?
Carolina: Yes, I visited when I was a sophomore with Estelle and my parents. I wasn't thinking about college at the time because I was busy panicking about an upcoming French project. I didn't reread my notes from the college visits until senior year. They reminded me how much I loved Dartmouth, why I wanted to apply, and, later, why I was so excited to take the incredible opportunity I'd been given by joining the class of 2024. 
Estelle: Carolina and I visited when I was a junior and she was a sophomore. It was a college trip in name—and practically all we did was drive between colleges and sleep lightly at hotels and drink lots and lots of complimentary tea and coffee—but as a junior, I wasn't yet feeling the full weight of a college decision. If this was the "shopping" process, as our high school advisor called it, then I was at Barney's New York with a maxed-out credit card… I felt like I was playing dress up. The whole thing was just one big adventure. It was the only college trip either of us took before applying and it was pretty daunting visiting primarily Ivies. It felt pretty unreal. 
Did you immediately think Dartmouth was "the one?"
Carolina: I really liked it, but I was originally interested in attending a school in a more urban area. I had my eyes set on either the University of Washington or a school in Boston or Philidelphia. Plus, since Estelle's the oldest in our family, when we visited, we were really new to the whole college process. Of course we'd heard of Dartmouth, but getting in was a very different conversation. 
Estelle: To be honest, Dartmouth seemed like an unachievable dream. Even as I took notes on the brick-wrought ivy-wound football stadium, it was with a sense of, "I may never see this again." Dartmouth was to me the quintessential college. I first read about it in The Mother Daughter Book Club in middle school, so yeah, it was a pretty big dream. The first college I'd ever imagined attending—but as I got the idea from a book, the idea of going seemed destined to remain fiction. I can't tell you how grateful I am that I'm really here. 
Did you apply Early Decision?
Carolina: No. Initially, I was not going to apply to Dartmouth at all because I was not overly excited about the prospect of attending school with my sister (hehe). That should tell you how much I loved it--I decided to apply anyway. After I was accepted, to the complete surprise of everyone I knew, I read over my notes from the trip. I was reminded of how much I loved the school, the town, and all the people I met. I remembered how much joy I felt walking around campus. After all, it was my favorite school I'd ever visited. 
Estelle: No. I applied ED to a different Ivy League, actually. Not because I loved it better but because we had literally no connection to Dartmouth. The one I applied to, my dad had attended, and he spoke so highly of it—and let's face it, getting in to any of these schools seemed impossible—that I thought my best chance was there. Dartmouth seemed like too big of a gamble (chasing your dreams always does, right?) In the end, that other school said no and it was absolutely for the best. I still have so much respect for it but I know, with absolute certainty, that Dartmouth was and is my dream school.
Do you think you made the right choice

?
Carolina: I have read so many amazing bios of students I am going to get to attend school with next year through the Dartmouth '24 Facebook group. I could not be more excited about attending Dartmouth, and looking further into the school only enhances that. It's funny to look back on my notes now, because I don't think I ever believed it was possible for me to attend. I mean, I took notes on Lou's donuts. My perspective changed when Estelle got in and I saw how much she loved it. Over the past year I've grown really close to Dartmouth. Getting to attend and meet all these incredible people is an amazing opportunity. I'm really excited!
Estelle: Well, Carolina probably can't speak to this yet, but I think she's definitely made the right choice (and not only because I missed her so much while I was away!) I still get up every morning at Dartmouth and, even if there's a ton of work to get done and my planner is scribbled off the margins, I have this immense feeling of gratitude, like, "I get to be stressed out at Dartmouth. How amazing."
What advice would you give to applicants about choosing Dartmouth?
Carolina: I would tell people to look through the Facebook page and read the bios of the students who have already committed. There are so many amazing people that have shared passions and interests and made their decisions for such a wide variety of reasons. I know most people were not able to visit colleges because of quarantine and many other reasons, so trust me when I say it is one of the most welcoming and charming towns I have ever visited. I felt right at home, and I live in Seattle! 
Estelle: If you feel with absolute certainty that Dartmouth is the school for you, yay! If you don't, that was me a year ago. I waited until Decision Day to commit to my dream school. What if they'd accepted me by mistake? What if I wasn't good enough? What if it proved to be just too far away from home? It was like jumping into water when you have no idea how cold it is—at some point, you can't do any more guesswork. You just have to go for it. When all's said and done, I think you'll be glad you did. 
Do you ever get in fights

?
Carolina: Oh yeah, for sure. For sure for sure. We're really typical sisters, we disagree on a lot of little stuff. Movies, activities, books, food, you name it. That's why I think it's so funny that we're going to the same school. We both found a place we really love and a community we are honored to be a part of, and if that means living in the same state again, well, we're good at that!
Estelle: Oh, yup. But there's no disagreement big enough that I'd want to stay on opposite sides of the country! 
Need some inspiration for your personal statement? Look no further! This is the blog post for you, my friend. Come on in and see how a Dartmouth Admissions Officer responded to my questions about essay writing!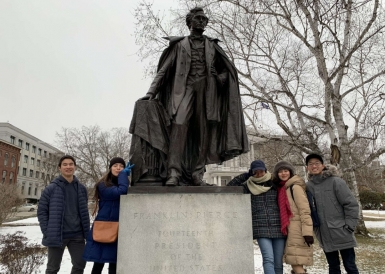 Sophomore year—it's that college phase where you're still figuring out who you are and where you belong.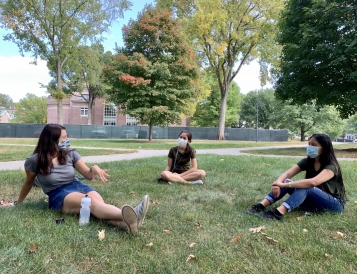 To those who may question whether applying is the right choice: yes! If you are looking for a sign to apply, this is it. Hear from a first-generation, low-income Chicana about why it's important to take a risk and apply.


QuestBridge is a non-profit organization that connects high-achieving students with low-income backgrounds to fantastic institutions of higher education.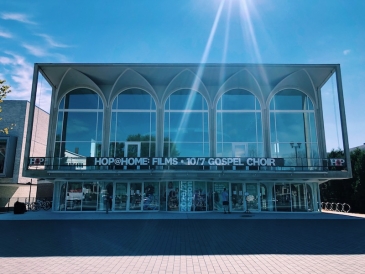 With Early Decision deadlines right around the corner, I thought I'd share a moment that made me super excited to submit my Early Decision application about a year ago.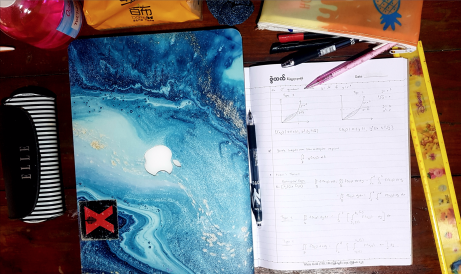 Whether it is trying to balance out a new sleep schedule, asking to meet with a professor separately, or getting support from those around me, I'm constantly growing as a student—even if I am miles away from campus.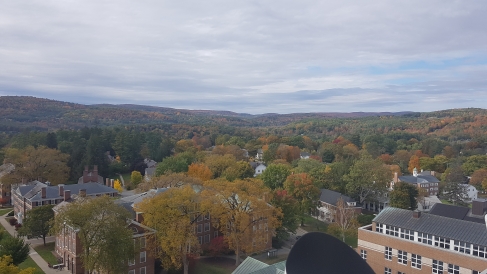 Standing on the Green, Dartmouth's historic grass-covered field, you get a front seat to the sunset that paints the sky a vibrant shade of berry-red and gold: fall has arrived.  

I know it may not be easy for your loved ones to let you go to campus at this time. I am one of those loved ones who wants to keep my '24 close right now. But I am also a '23 who loves Dartmouth.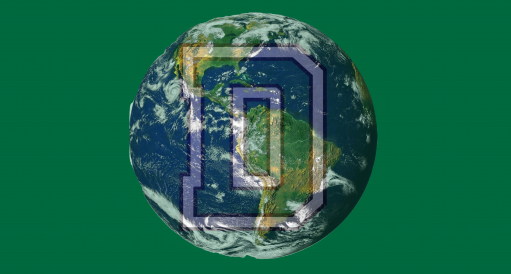 Is Dartmouth too small? Can you meet everyone in a year? And is that even a problem?