You are here
Fall

Hanover, NH

The first in the two-part Humanities series, this course offered a rare opportunity to engage with a broad range of Western classics, from Toni Morrison's "Beloved" to a selection of Shakespeare's sonnets. My peers and I met with the entire Humanities cohort for lectures and our own smaller seminars for discussions, supplementing our understanding of the course with essays where we engaged with syllabus works of our choice.

Winter

Hanover, NH

This course offered a sweeping and fascinating introduction to neuroscience. Our lectures covered cellular and molecular neuroscience, neurophysiology, neuroanatomy, and cognitive neuroscience, and the course (as you'll note in the above link) draws from a variety of disciplines, introducing students to biochemistry, biology, physiology, pharmacology, neuroanatomy and psychology. I highly recommend this course for anyone considering neuroscience as a major, minor, or simply an area of interest--it offers an incredibly valuable introduction to the subject and was a fascinating way to spend the winter!

Spring

Remote

An absolutely fascinating course (don't just ask me--on campus this course is famous for offering an incredible introduction to the science of language!), Linguistics 1 offered my peers and I the chance to dismantle our perception of language to its smallest elements and build it back up again. Beginning with sound systems, we worked our way up to the study of word structure, syntax, and semantics across several languages. I highly recommend taking this course -- you won't look at language the same way again!

Fall

Remote

Writers of poetry and prose, authors of mysteries and fairy tales, seasoned novelists and beginning writers—all are welcome in CRWT 20! The workshop-based course is supplemented with assignments that improved our technical understanding of writing, from the minutiae of dialogue formatting to the study of a strong plot. I'd highly recommend this class to anyone interested in Dartmouth's phenomenal creative writing coursework!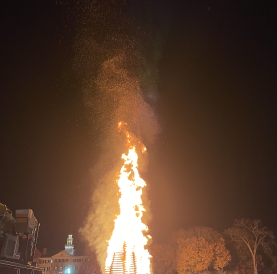 Homecoming: 22F Edition
A tradition which welcomes new students as eagerly as it does alumni, this Homecoming weekend saw an incredible turnout.
Pages