« All Posts by this Blogger
Exploring Baker Tower
When I first drove up to Dartmouth for my admissions tour during my junior year of high school, I remember immediately seeing the clock-face of Baker tower and knowing that I had arrived on campus. Baker tower, the second tallest point on campus and one of the most photographed places at Dartmouth, is somewhat of a symbolic icon of the well-established tradition and beauty of our school.
This past weekend, I had the opportunity to climb the tower with some friends to see the inside of the clock-face AND to admire campus from the perfect bird's eye view.
Walking up the countless stairs to the top of the tower, there was a moment when all of a sudden everything appeared to have a tint of purple, evidence that we were just steps away from the top. As many Dartmouth students and alums know, the face of the Baker clock is not white as it may appear from the ground but rather light shade of lavender (if you ever find yourself playing Dartmouth trivia, this is a pretty good one to know). The lavender tint gives the inside of the wooden structure a beautiful and oh-so-photogenic glow.

But, while the inside of the clock tower is pretty cool, the view from the very top is truly the reason for climbing what felt like a dozen flights of stairs. As we stepped onto the small balcony that encircles the top of Baker tower, we were immediately blown away by the stunning views of not just the Green and our entire campus, but also the White Mountains, the Connecticut River, and the snow-kissed 360-degree natural scenery that you really only get in New England.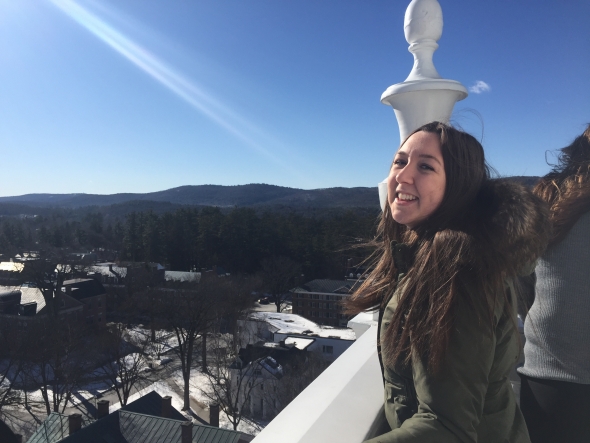 Dartmouth tower tours are one of my favorite parts of the "big weekends" here on campus. Every fall Homecoming, Winter Carnival, and spring Green Key, student libraries workers allow small groups of visitors to take in this truly unforgettable view and see inside one of the most iconic structures of Dartmouth College.