You are here
« All Posts by this Blogger
The Beauty of Looking Up
With all the craziness of a 10-week term, it can be easy to keep your head down and keep checking off the seemingly endless list of 'to-dos.' This term, I made an effort to look up and appreciate the often overlooked beauty that makes living in New Hampshire the privilege that it is. So, here are my six favorite photographs that I captured while looking up this term. 
Every summer, members of the sophomore class stay on campus and take classes.
Since my birthday also falls close to July 4th, there were some on-campus events, no school on a Thursday, and a weekend for my sister to visit via the Dartmouth Coach from Boston. 
Bordering the Connecticut River and amidst the rolling mountains of the north-east, Hanover is one of the most beautiful places I have ever been...
So far, each day has had its own instantaneous excursions, everything from friends calling to swim in the river to brief trips off exploring in the woods.
Outdoor activities, which peak in the summer, are one of the greatest ways to make new friends in a fun way.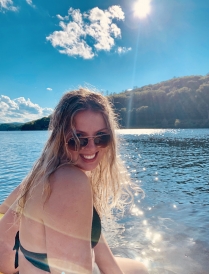 For my blog post this week, I thought I would share some of the most common questions students have asked me this summer!
This time around, it was all about family; this weekend, the College invited all sophomore students to bring up their parents and siblings for a couple days, hosting all different kinds of programming and events. 
In a span of two weeks, I've done much more cool things and made friends with much more people than I usually did in a typical term at Dartmouth.
My time here at Dartmouth has been an absolutely incredible experience – one that has flown by WAY TOO FAST.