« All Posts by this Blogger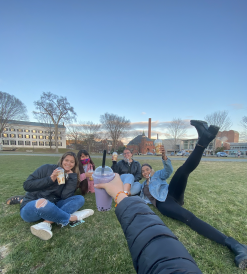 My first two-course term: Senior Spring!
As many of you probably already know, at Dartmouth, we typically take three courses throughout the duration of one of our ten-week terms. However, occasionally, students take a four-course or two-course term. Four-course terms are notoriously difficult, while two-course terms are often labeled as an easier alternative to our traditional three classes. Since I have successfully completed all of my distributive requirements (you can read more about those here), and only had one more class left to graduate with my double major in Religion, I decided to test out the two-course term. Although we are only just entering Week 3 of Spring term, I've already been confronted with the reality that I've still got my work cut out for me. To begin, I'm taking my final Religion department course – REL 80.06: The Creation of Buddhism (an Advanced Senior Seminar) – as well as an independent study within the Native American Studies department which allows me to study my Indigenous language – Chahta anumpa (or the Choctaw language). Additionally, I'm working on campus again as an Undergraduate Advisor to First-Year students and am still serving as your very own Senior Admissions Fellow within the Dartmouth Admissions Office. Alongside these responsibilities, I'm also navigating post-graduate decisions, am committed to actively enjoying my final moments as a member of Native Americans at Dartmouth, and am cherishing the memories I make with all of my friends on campus during Senior Spring.
Although taking two courses instead of three may make it seem like I'm having a laid-back Senior Spring, I've actually had to maintain my same level of commitment to classes. This is especially true of my Religion class, as I've never taken a course which focused on Buddhism. It has been challenging to both learn the basics and actively participate in class discussion, but every time I add something meaningful to these discussions, I am rewarded with the knowledge that, as a Senior at Dartmouth, I have learned how to adapt and learn quickly. Similarly, I have had to hold myself accountable during my NAS independent study of the Choctaw language. Although I know some words and phrases in my Indigenous language, I am nowhere near fluent. The opportunity to start on the path towards learning my Native language at Dartmouth is one I take very seriously. While learning a language can often be frustrating, I find solace, comfort, and purpose in the fact that I am learning the language of my ancestors. So, despite the fact that I'm only taking two courses this term, both of these classes are very important to me and require me to devote sufficient time to each of them alongside my on-campus jobs!
Even though the two courses I'm taking this term are keeping me very busy, my best friends on campus are helping me remember that this is also our last opportunity to be on campus together as Dartmouth students. As this is the first term that we have all been on campus together since Sophomore Summer, and potentially the last time that we'll all be on campus together again, it's more important than ever that we live in the moment and take advantage of all the awesome opportunities that Dartmouth has to offer. It seems to me that, between my two classes, two jobs, and many friends, this term on campus will be no less busy than any other, and perhaps, this will be my most memorable term yet!