« All Posts by this Blogger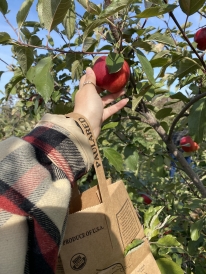 Get in, Loser. We're Going Apple Picking!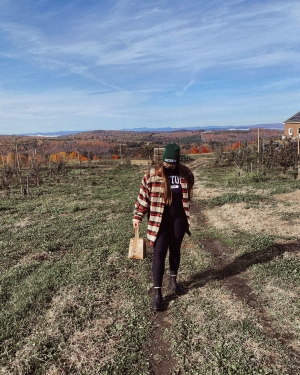 Although Dartmouth students are currently only allowed to travel within a prescribed number of towns in the Upper Valley area, my gals and I have still found plenty to do (and yes, we're doing it safely)! Take Lebanon, New Hampshire for example, one of the towns which we are allowed to visit while following both mask and social distancing protocol. In Leb (as you'll hear Dartmouth students refer to it), there is an awesome farm where you can buy New Hampshire maple syrup (yum!) and go apple picking in the orchards. If you ask me, this is the ideal way to get off campus and spend a Fall term weekend outdoors!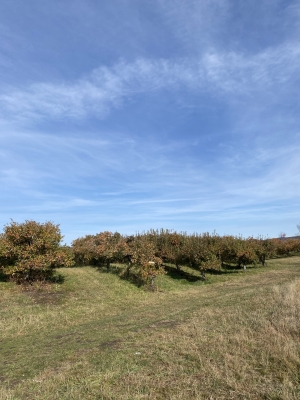 It's the end of Week Five, and for anyone who doesn't know what that means, it means midterms! Thankfully I finished my final assignment on Friday and was able to keep my weekend open. After a very long week, y'all know I needed a little TLC! And I found that rest and relaxation in the form of apple-picking!
This weekend, I was lucky enough to stop by Patch Orchards. I was greeted by the friendly faces of the family who has owned this farm on top of the hill for eight generations! As a history major, you know I loved reading all about how this family has tended the land there since 1775! Once we had walked through a lovely open barn full of canned pickles, apple jam, maple syrup, and apple sauce, we grabbed our paper bags and set out to pick the last of the Honeycrisp and Gala apples. After we had picked our fill of beautiful apples, we went back into the barn to order donuts and (my favorite) hot apple cider! We had some amazing fall weather and the crisp air made sitting outside at picnic tables with our warm cider the perfect treat (pro-tip: if you want to truly enjoy your donuts and cider, dunk the donuts into that steaming cider – you can't beat it)! After a few more photos of the beautiful view from the hill, and of course a mini scoop of tasty maple ice cream, back to campus I went!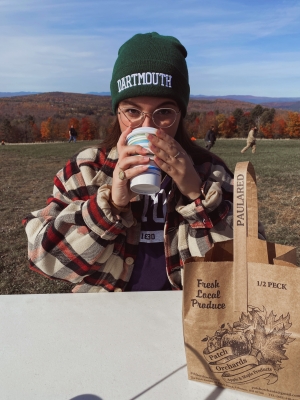 So often we all
get caught up in midterms and the anxiety of this global pandemic, when possible, small things, like going apple-picking at a local farm, can really mean the most. I'm so happy that I spent part of my weekend outdoors, enjoying local food, and supporting a local farm. If you're ever in the area for a New Hampshire fall, stop by Patch Orchards and tell them 'Claire' sent you!