« All Posts by this Blogger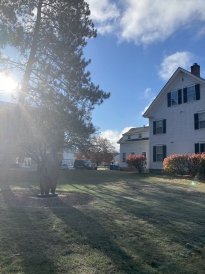 20FinalFall: Highlights of my final fall on-campus!
After every term, I love to reflect on my experiences and, as I've said so many times already, this term has been like no other. The unprecedented circumstances of this term, combined with it being my senior fall, make this the perfect one to reflect upon. During #20FinalFall, I was reunited with friends for Indigenous Peoples' Day, went for a beautiful sunrike (sunrise hike), and helped plan our annual Indigenous Fly-In in its first-ever virtual format! I'm so excited to share these memories with y'all before I head on home for Winterim (winter interim break)!
1. Annual Indigenous Fashion Showcase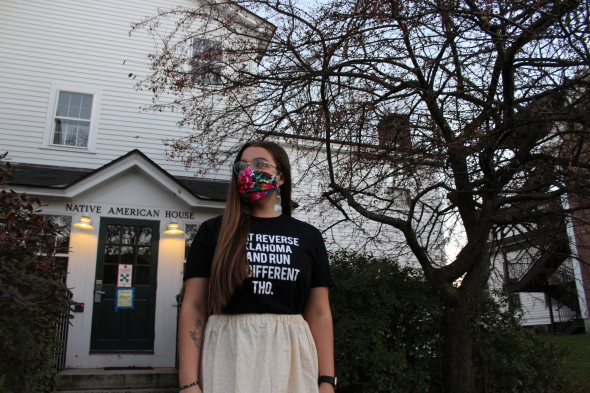 Towards the end of this term, I participated in the Second Annual Indigenous Fashion Showcase. Of course, this was the first term that the show was virtual, but our amazing team put together an awesome program and streamed the show via Zoom and Facebook live for anyone to view! Native Americans at Dartmouth community members strutted down the virtual runway during this event which celebrates Indigenous culture and creative expression. This year's showcase featured an amazing guest emcee, Geo Neptune, a Dartmouth alum, Two-Spirit basketweaver, and drag performer from the Passamaquoddy tribe who recently became Maine's first openly transgender elected official. This event was organized by Hood associate curator of Native American art Jami Powell and our wonderful NAD executive board leaders. I personally modeled earrings and a ribbon skirt by Choctaw artists, as well as a t-shirt by Indigenous collective 'Thrive Unltd.' I'm so proud to have been a part of this community event. This was definitely one of the most memorable experiences of my Dartmouth career.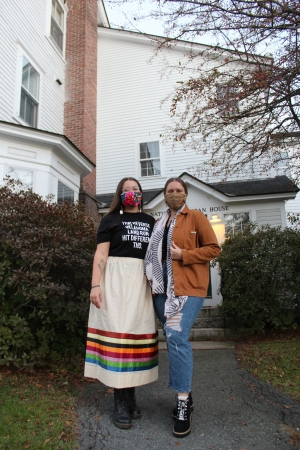 2. Hiking Gile Mountain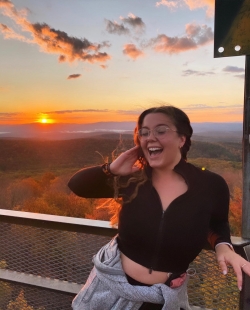 Since it was especially important to remain relatively isolated this term, spending time outdoors with my two best friends was some of the most social interactions I had. Spending this time with them, in the great outdoors, moving our bodies, talking, and enjoying each other's company is one of my favorite Fall term moments. At the beginning of October, we hiked Gile Mountain. This is a short and sweet hike in Vermont which offers the most fantastic view of peak New England foliage. After a quick hike, we climbed to the top of a fire tower to capture these photos. We chose to arrive VERY early in the morning so that when we made it to the top we could capture this beautiful sunrise. In true Dartmouth fashion, this sunrike encompasses one of my top three Senior Fall term memories.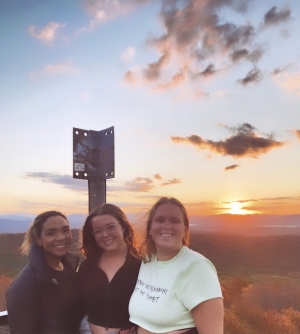 3. Annual Indigenous Fly-In (Virtual Style!)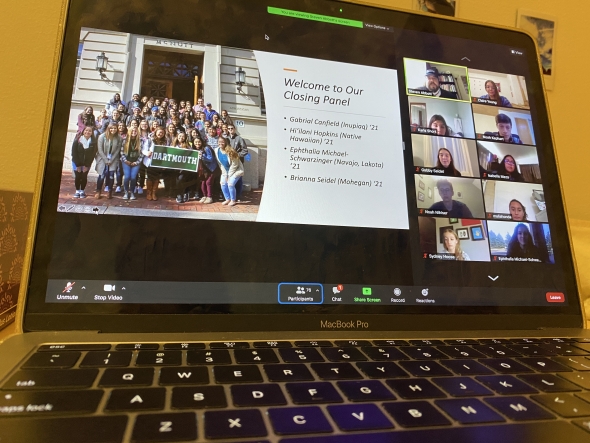 Over the course of three days, Dartmouth hosted our annual Indigenous Fly-In program in its first-ever virtual format! I'm so proud to say that, as a Senior Admissions Fellow, alongside our amazing Indigenous Admissions Officer, Steven Abbott, I helped to plan and facilitate this experience for around 70 Native American and Indigenous high school seniors. It was a long few weeks of planning and promoting, but the end result was three days of beautiful bonding moments and shared virtual experiences. Besides the planning of this program, I was also the proud Group Leader of Team E! Shoutout to my IFI bounders! I spent this weekend and Indigenous Peoples' Day learning, advising, supporting, and growing with Team E. As far as memories go, this one is by far my favorite! When I was a senior in high school, I participated in IFI. Since then, I've also hosted IFI bounders in my own dorm room for the fly-in weekend. Now, I couldn't be happier to work behind the scenes to plan the first-ever virtual IFI, as well as serve as an official Team Leader. This program means so much to me, and to be completely honest, it brings me full circle within my Dartmouth experience. The Indigenous Fly-In program is what began my Dartmouth journey.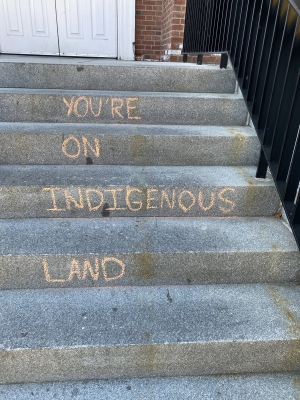 While this wasn't exactly your average term, these three memories helped to make my senior fall extra special. It still hasn't sunk in that this was the last of my falls at Dartmouth College. I'm so glad I got to share it with y'all.