« All Posts by this Blogger
Winds of Winter
This post is all about Dartmouth's best season... winter!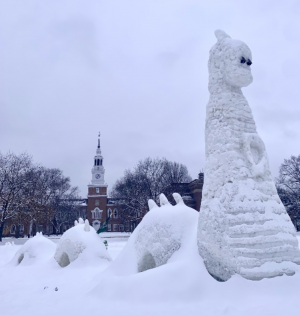 Winter has a special place in my heart. I'm from the mountains of Salt Lake City, Utah, so as you might expect, winters at Dartmouth make me feel closer to home. I grew up around low-temp activities, and there's no better place for those activities than Dartmouth! From skiing at Dartmouth's very own Skiway to sledding down the snow-capped golf course, there's no shortage of things to do in Hanover's most beautiful season.
Dartmouth students do a wide variety of different activities in the winter. Some go ice skating on Occom Pond and others will stay in and read a good book. Many do both! Personally, I've spent every weekend possible on Dartmouth's Skiway. I've also convinced friends who rarely ski to tag along with me (and have tried my best to teach them what I can!). More recently, I started learning how to snowboard for the very first time! I can't say it's better than skiing (sorry, I'm loyal to my craft), but it has been lots of fun to try out a new winter sport. 
When I'm not on the slopes or studying in the library (because academic rigor is real), you'll find me outside enjoying my favorite season. So far, I've built a snowman and an ice sculpture, and I've had plenty of opportunities to throw snow at my friends! 
Beyond the skiing and ice sculpting and the fluffy snow, there is something truly magical about winters.
I notice that "magic" most on the coldest nights, when the chilly winds of winter pound on my dorm room window, and I no longer want to leave the warmth of the indoors. On those nights, I call up a few of my closest friends to huddle together and brave out the storm. Those are the nights I'm up late laughing over something funny on TV. Those are the nights I'm learning something new about a friend. Those are the nights I'm having some of the most unexpectedly noteworthy conversations of my life. 
The winter asks us to cuddle up with our friends. The winter asks us to bond with those friends over hot chocolate and good conversation. The winter brings us together.
So even if you're not a fan of winter and all the skiing and snow-throwing that comes with it, just know that it's that special season that makes your friendships stronger than ever before. That, over everything else, is what makes winter so special.