« All Posts by this Blogger
Why Dartmouth? (Without Ever Setting Foot on Campus)
Last year, I stepped onto campus for the first time. No, not for Dimensions (which if you can, you should go to, by the way)... not even on a random weekend just to see it. I had committed the next four years of my life to Dartmouth despite having never even visited the state of New Hampshire. It might sound a little crazy, but I felt like I already had a good enough idea of the school and didn't feel like I needed to. Here's why (and how) I chose Dartmouth, without visiting campus:
The alumni never stop raving about their time here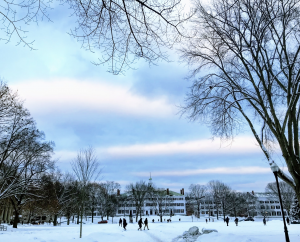 I was fortunate enough to talk to several alumni before coming - a Dartmouth '77 (my alumni 
interviewer
), a '10, and a '16 (who had just graduated at the time). Although they all attended Dartmouth at very different times, they only had overwhelmingly positive things to say about their alma mater. I was transported into a world of fiery autumn leaves, serene winter views, and Sophomore Summer cliff-diving. Without visiting campus, I was able to picturre Hanover as if it was already my home because of Dartmouth alums.   
I stalked the College social media
Dartmouth's Instagram has some magical photos of campus.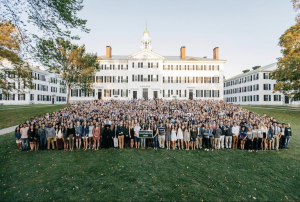 Beyond the surface-level beauty of this place, I got a better idea of what Dartmouth values as a part of its identity based on what they photographed, what they emphasized in their captions, etc. Also, you're already starting off in the right place since you're reading this post right now! All of us bloggers experience Dartmouth from different perspectives, and we're a great way to catch a glimpse of what Dartmouth has to offer. 
 
Information sessions
Dartmouth didn't enter my college search radar until I attended this multi-college information session. I wasn't remotely interested in Dartmouth before attending that info session: I had discounted it because I thought that the student body would be too small for my taste. I changed my mind entirely afterward. I discovered two things about myself: first, that I actually did not want to go to a large school (I found that larger schools felt more impersonal), and two, that I should really consider applying to Dartmouth. Of all the other schools that presented, Dartmouth stood out most to me because it felt so personal and because of ...
... the emphasis on community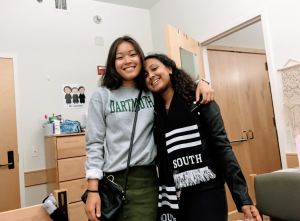 After the info session, and also after scouring all the online sources I could, I concluded that Dartmouth had the best sense of place. I noticed that everywhere I looked, sources gushed about Dartmouth's thriving campus community and culture. I fell in love with everything about Dartmouth: from the quirky lingo like "flair" and "blitz" to its cult-y weekend traditions like Homecoming and Winter Carnival. Flash forward a year later, and I can confirm that Dartmouth's culture is truly vibrant and unique. I'm not only in awe of what my friends here accomplish, but I'm also in awe of how great of people they are. 
A gut feeling
I debated adding this headline to this post because it's so vague, but "a gut feeling" is honestly the primary reason I chose to come to Dartmouth. I could devote a section of this post to listing off all of the statistics, fun facts, and characteristics that I found about Dartmouth back when I applied, but honestly, I just felt emotionally drawn here. As much research as I did, I chose to come here because I had a feeling that it was the right fit for me. 
I was not wrong.