« All Posts by this Blogger
We Started a Nonprofit in Quarantine!
With all of the extra time resulting from remote classes and quarantine, many of us at Dartmouth have faced a new challenge: how do we spend all of our newfound free time? For my friends and fellow Dartmouth students, Amy '20 and Rine '22, the answer was to start Give Essential — a nonprofit that connects essential workers in need of household items with donors who are able to support them.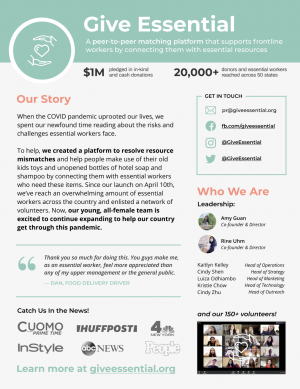 The idea for Give Essential initially grew out of a Dartmouth class — Social Entrepreneurship (ECON 77). From the class, Amy and Rine learned about "resource mismatches," and in the wake of the ongoing pandemic, they grew increasingly concerned about America's ongoing mismatch: essential workers are in need of resources, while many everyday citizens have those items laying idly around in their house. Leveraging what they had learned in the classroom, Amy and Rine launched the Give Essential website in under 36 hours. They also recruited a few friends (myself included!) to lead different aspects of the effort (personally, I lead design and strategy).
Our site allows an essential worker to get the things they need just by filling out a quick online questionnaire. From there, our team matches the essential worker with an appropriate donor (who also simply fills out a short form). Donors can gift anything from cleaning supplies and masks to kids' activities and gift cards. Some of our donors have even requested to send recurring shipments to the essential worker they "matched" with.
Since launching, we've grown to a team of over 150 volunteers (many of whom are fellow Dartmouth students!) a community of over 20,000 donors and essential workers. We've also been able to pledge over a million dollars in in-kind and cash donations to essential workers in all 50 states and have been featured on CNN Cuomo Primetime, ABC World News, and People magazine, among others.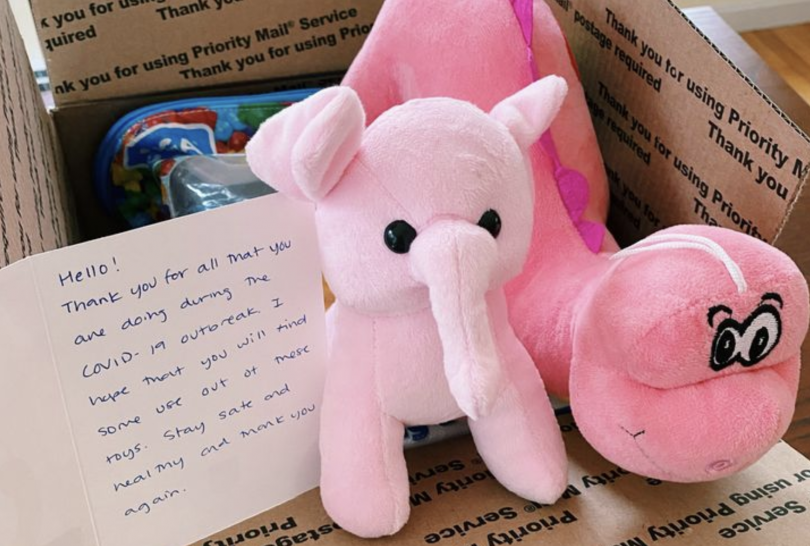 It's been easy to feel isolated when we're all six-feet apart, but Give Essential has allowed a host of Dartmouth students to not only stay connected with one another, but with a network of thousands of donors and essential workers across the country. Even in uncertain times like these, I've had the chance to be a part of a positive force that makes a meaningful impact.
As Amy puts it in an article she wrote for The Huffington Post, "Give Essential started as an idea, grew into a group chat, and snowballed into a community with hundreds of connections across the country. During this time of uncertainty and disappointment, it has uncovered heartwarming stories of people who just want to do good, willing to go miles out of their way to give to strangers who need help."