« All Posts by this Blogger
Surprise Contributions to Acclaimed Art!
This week, I serendipitously stumbled upon an opportunity to contribute to an art exhibition!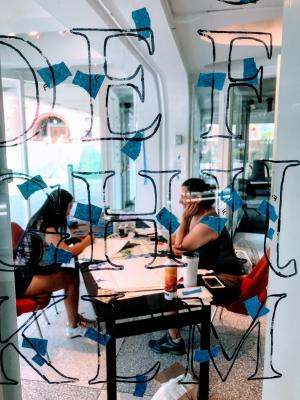 As my friend and I were walking by 
the Hop
, we chanced upon 
Gina Adams
 — this summer's
Artist in Residence
 — working on a new quilt for 
her Broken Quilt exhibition
. We wanted to contribute, so we asked if we could help and were each handed a pair of scissors to help her cut out letters for the word "commissioner" in the
Treaty with the Wyandot (1785)
.
Gina energetically discussed her life and artwork with us while we worked. Her project was inspired by her own Native American heritage, and visually reimagines broken treaties between the U.S. and Native American tribes on antique quilts to bring awareness to European settlers' broken promises. She hopes to be able to complete all 370+ broken treaties (which, given the amount of time it took us to cut 12 letters, is seriously incredible).
Apparently, we had stumbled into one of her open letter cutting sessions, which were (and still currently are) open to Dartmouth students as a way to directly interact with her artwork. 
Gina's plan is to fill the front windows of the Hop with the letters cut by students: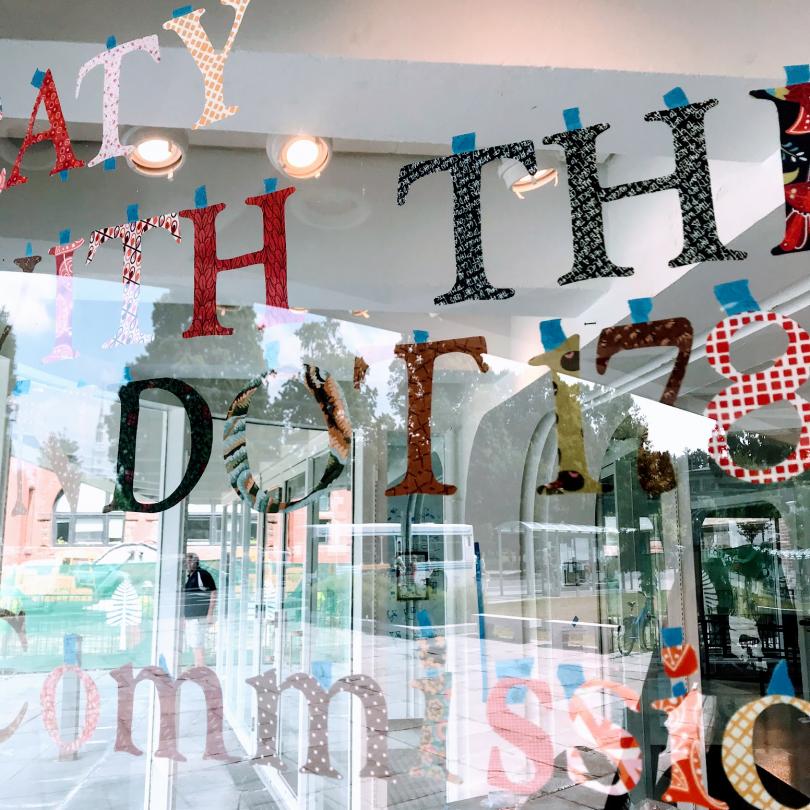 Contributing to noted artwork is an opportunity that's pretty "distinctly Dartmouth," so I decided to blog about it (hence, this post). While Dartmouth has a rep for its secluded vibe, the rest of the world not only comes to visit, but is also incredibly approachable. Generally (and not exclusive to the arts), something I've noticed about my time here is that all of the opportunities I've encountered are easily available; that, or they seek you out.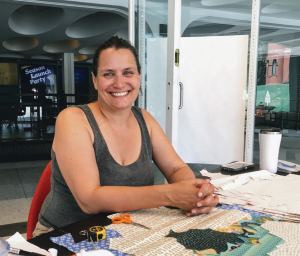 Getting the opportunity to
meet prominent artists
and performers has been a huge perk of being a student here, and to be honest, I haven't really taken advantage of it. So, as a person who hasn't really sought out these kinds of moments, randomly meeting Gina is kind of a miracle. 
I also didn't just meet Gina, I see her all the time! Since she's an artist in residence, she has a studio in BVAC (where my Drawing 1 class is), so I run into her basically every week.
After a morning of cutting, I wanted to see what the finished quilts looked like and dropped by the Jaffe-Friede Gallery to see the full exhibition.
And I'm so excited to see the word "commissioner" on a quilt like this: