« All Posts by this Blogger
Sophomore Summer... as a Freshman?
To me, summer brings to mind many happy childhood memories: running through the neighborhood sprinklers, lazing in a hammock, swimming in a lake... none of which include school. This summer, however, I'm taking a full college course load, by choice.
Why? Well, thanks to the D-Plan, I have the flexibility to choose which terms I'm on and off campus (we have four year-round terms, rather than two semesters). Since I plan to take this next winter off to intern in my hometown, what better time to stay in Hanover than the summer? While summers are famously oriented around the rising junior class (this year, the '20s) for Sophomore Summer, there are actually a surprising number of non-'20s enjoying the Hanover summer too. 
And while #academicrigor is real, summer on campus almost feels like those happy childhood memories...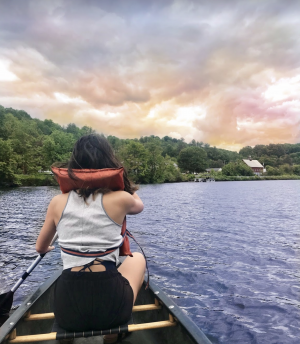 To begin with, summer on campus is 
stunning
.
Even though I'm taking some fairly difficult courses, studying isn't quite as painful when I get to do my readings in a hammock. I'm also working two jobs because neither fencing nor debate are in competitive season during the summer. Still, I've found that I have a lot of free time on my hands, so I'm taking spin and zumba classes at the alumni gym to fill up my extra time. I've also had many chances to go canoeing in the river! 
Summer is also more intimate: since there are less people on campus, I've gotten more opportunities to meet people — especially '20s. And the KAF line is so short! (it's usually out the door because we all love KAF.)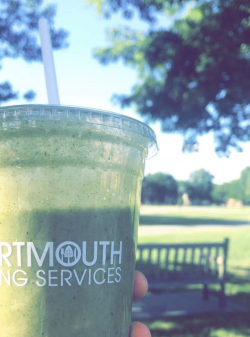 And let's not forget about the food.
Summer on campus means we have farmers markets twice a week. On Wednesdays, local farmers and vendors set up tents on the Green to sell fresh produce (there are craft stands too!). And on Fridays, Collis features local goodies that you can purchase with your dining dollars (DBA). 
Last weekend, I had a picnic with my friend with fancy local cheese, charcuterie, and strawberries that we bought entirely from Collis!
It's almost like I'm at summer camp. #CampDartmouth