« All Posts by this Blogger
Political Activism Made Easy: How I Met 3 Presidential Candidates
One of the biggest and often overlooked perks to being a Dartmouth student is the opportunity to listen and even meet notable political figures without really even trying to. I am not the most politically-engaged student on campus; in fact, I'm far from it. I'm involved in neither Dartmouth Democrats nor Dartmouth Republicans, and most of my political knowledge comes from a brief skim of the daily news. That being said, I'm interested in political issues, try to stay informed, and have plenty of opinions. Thankfully, Dartmouth's strategic location in New Hampshire -- an important swing state -- attracts the people at the forefront of various political ideologies and organizations to visit campus, meaning that students like me can remain politically active with little effort.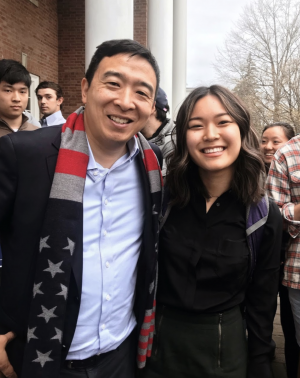 With the 2020 elections quickly approaching, many Democratic candidates vying for their party's nomination trek to campus as part of their campaign. In the last two weeks alone, I've had the chance to listen to and meet Kamala Harris, Andrew Yang, and Beto O'Rourke. 
How? Well, the opportunities were basically everywhere. I wasn't aware of Kamala's visit until the day she spoke; a friend mentioned she was speaking on campus during class, and we decided to listen to her speak together. I learned about Yang's visit through a Facebook invite and simply plopped the date and time on my agenda. As for Beto, I went late to his speech after fencing practice and came just in time to listen to the end of his speech (and meet him! See this post's cover photo).
Listening to candidates speak in person gives me a better idea of who they are and what they stand for. As a working student, it's often hard to find the time to be civically engaged, so it's nice to have the opportunities to engage in political discussion handed to me. I can now enter the 2020 election season as a relatively more informed citizen!
Plus, who doesn't love stumbling upon a Q&A with Hillary Clinton on a casual Wednesday?