« All Posts by this Blogger
Officially a Senior Citizen!
Nine terms, twenty-eight classes, forty-two blog posts, and three full years later, I'm now in my senior year at Dartmouth.
It's dizzying to think that most of my Dartmouth life is in the past. I still remember drafting my very first blog post as a freshman: I wrote that I'd have "much more content to post" and get to be here for "quite some time." And well, now my blogging days are almost coming to a close... and so is my time here. It's like I blinked, and suddenly, BAM! I'm a senior.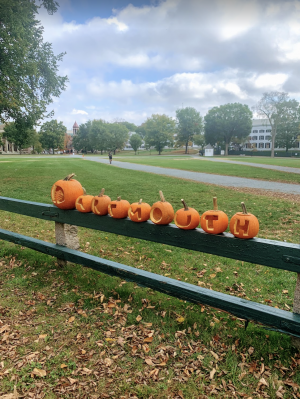 Of course, that blink wasn't without growth, change, and all of the beautifully unexpected hurdles and opportunities Dartmouth threw my way. When I first started blogging, I wrote about all of the plans I had in store for my life here, but I also knew that I still had "a while to change my mind." That statement proved true. I started as an economics major modified with engineering, then thought I'd pick up a studio art major, added in a quantitative social science (QSS) major at some point, before finally cycling back to a pure economics major and topping it with a minor in government. 
Needless to say, I've changed my mind a lot here.
At Dartmouth, I've had the chance to try out interests I didn't even know I had: I stumbled (and quite literally stuttered incoherently) onto the Parliamentary Debate Team as a freshman and later got to travel all the way to Cape Town, South Africa, to judge the 2019 World Championships; I became a project manager and user experience (UX) designer at Dartmouth's DALI Lab despite not even knowing what UX was when I first got here; I've even had the opportunity to be an economic policy intern at the White House Council of Economic Advisers, even though I had never previously been remotely close to a political pundit.
Most of all, I've been shaped by the people around me. From sage advice (courtesy of my awesome professors) to late-night chats with friends, the conversations I've had here have challenged and nuanced my personal philosophies. As someone who hasn't been back to campus in half a year, I appreciate those exchanges more than ever. Now that I'm back (just in time to enjoy the New England fall!) and have had the chance to catch up with friends and acquaintances alike, I've been reminded of what has always made this campus so special: the people. 
It feels bittersweet to be writing this post. In all honesty, I drafted this blog post thinking that I'd write about all of the things I'm looking forward to this year (that post is coming soon!), but I think my sentimental self needed to reminisce. Especially from where I'm sitting right now, it's impossible not to venture down memory lane: I'm writing this post from a bench on the Dartmouth Green, and I just witnessed a few '24s (freshmen) excitedly meet up with their newfound friends. The scene brought me back to when I was one of those freshmen, and so, this post (sort of like my Dartmouth experience) went on a winding, ever-changing path of its own.