« All Posts by this Blogger
Mischief Managed: The Community Snowball War
"You can throw it on The Green,
You can throw it at your dean!"
These sprightly rhymes were a welcome distraction from my studies. In a poem sent from Theodor.S.Geisel.25@dartmouth.edu to the entire campus, "Dr. Seuss" invited challenged us all to a snowball fight, asking in the subject line: "Would you, could you, in the snow?"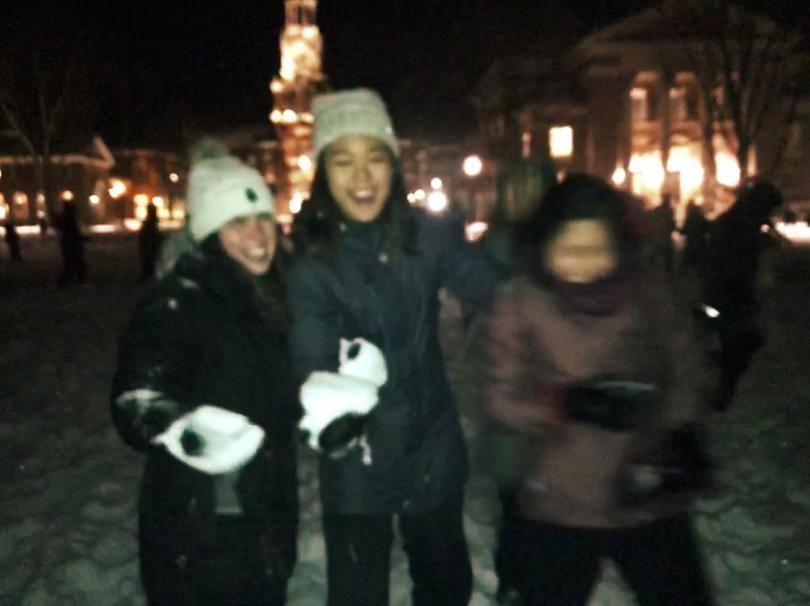 Dr. Seuss sent the same poem during the first snowfall last year, and I remember my freshman self eagerly darting to The Green with friends in the thick of midterms season.
Even as a sophomore, I felt the same wave of excitement, and it's easy to see why:
At midnight, armed with warm gloves and snow pants, my friends and I charged to the crowded Green for yet another battle. Immediately, I was struck in the back by an unidentified peer. I quickly responded, shoveling snow into my fists and chucking it in all directions. As the night progressed, I tackled and was tackled into the snow (friendly fire), ducked behind a snow fort to hide from some formidable assailants, and began a war between my friends and some students I'd never met before. I watched balls of snow sail through the air from friends and strangers alike hitting me and those around me. I saw a girl run from her attacking friend only to trip and fall face-first, laughing, onto the snow below. It was first-grade recess all over again: it didn't matter whether you were friends or strangers, you were all part of the game. 
Our annual snowball fight fosters the spirit of inclusivity that shows me how Dartmouth actively cultivates a sense of family. As a sophomore, the snowball fight might not be a novel tradition to me anymore, but I still felt like the same old freshman running off to battle. There's something about throwing snow at your fellow classmates that's (for lack of a better word) magical. It's an amazing moment where I'm reminded why I love this place -- for all those times I've felt like my brain has been run a marathon here, I've had fun and silly moments to complement that "runner's high." 
The midnight snowball fight is a small and often overlooked tradition, but it's one of those hidden gems that makes Dartmouth extra special.