« All Posts by this Blogger
Living a Double Life
I've heard numerous times that you shouldn't room with your best friend, especially if you want to stay friends. With this in mind, Steph (my best friend) and I went ahead and decided that a perpetual sleepover was a great idea.
And honestly, it was.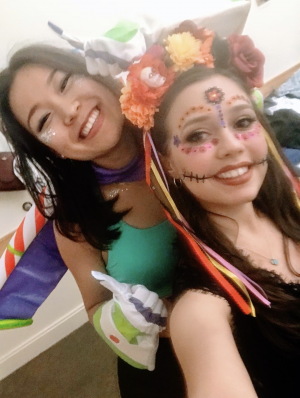 I've
blogged about my rooming experiences
before. In my time at Dartmouth (all of five terms -- a little over a year), I have lived the single life, the one-room double life, and now, the two-room double life; all have their perks, but I have to say living in a two-room double has to take the cake. 
A two-room double means I get the best of both worlds: not only do I get a space to call uniquely my own, but I also always have a close friend to return to every day. All the pros I felt about my previous rooming experiences have been bundled into one perfect dorm space. 
So there really isn't the threat of a best friend rooming disaster.
In fact, rooming together has made us even closer.
And so without further ado, these have been just a few of the perks of living with my best friend:
No. 1

We never have to worry about scheduling time to hangout

All I have to do is crawl out of bed (a feat in itself) to coordinate schedules.

No. 2

We can be honest when we annoy each other

Sometimes (as in the case of any relationship), we bug each other. Thankfully, our established friendship means it's okay and not awkward to talk about those little things.

Steph and I already knew we got along just fine before rooming together, so I knew I'd always be around good company. Most people fear small roommate squabbles becoming bigger fights, but Steph and I have established a rhythm that works for both of us.

No. 4

I have an extra large closet

Sharing is caring, after all. I now have an extra closet to raid, and so does she!

No. 5

Our Walmart trips are legendary

Seemingly mundane things, like getting groceries at Walmart, become really fun when you go with your best friend. Steph and I like to dress up our dorm in the most immaculate way possible, so shopping at Walmart gives us decoration inspiration for our home.

No. 6

There's always someone to vent to

There's no greater feeling than coming home after a garbage day and just unloading it all on someone you trust. Even on grim days, I'm instantly cheered when I get back to my room.