« All Posts by this Blogger
Choose Your Own Adventure: '21s Talk About Pursuing Their Academic Interests at Dartmouth
While the current freshmen (the '21s) still have a couple terms before we'll declare our majors, it's now our third term (and first spring!) on campus, so most of us have a better general idea of what we're interested in studying, and we've also already gotten the chance to explore those interests beyond the classroom.
Currently, the parliamentary debate team and peer tutoring are where I primarily apply my beyond-the-classroom experience in economics. Debate has given me the opportunity to apply the models and theorems I've learned in class to real-world situations, while tutoring has helped solidify my understanding of course material. But for a wider variety of these kinds of experiences, I've asked some fellow '21s interested in different fields of study on how they've been able to pursue their academic interests at Dartmouth thus far:
 
Ally Gaines | Interested in Global Studies, Arabic
Coming into the school year, the LSA+ (Language Study Abroad) program in Rabat, Morocco, wasn't remotely on my radar. But after weeks of discussion with my professor, advisors, and family, the promise of a full language immersion experience complete with camel riding, independent travel, and a trip to the Sahara Desert, seemed like an opportunity that I couldn't ignore. Prepping for the LSA inspired me to join a Moroccan Arabic class and intensify my studies of the language and culture. The prospect of learning so much new information in just ten weeks is beyond exciting, and it has sparked a slew of new academic interests I never thought I would have. I've also connected with students from across campus in getting to know the people going on the trip with me next term and others who were eager to share their own past experiences. I look forward to experiencing all that Morocco has to offer and enriching my academic portfolio in the process.
 
Hayley Duvall | Interested in Linguistics
Linguistics is the study of language, so it manifests in many ways. For me, being a linguistics major has enriched my experience in my a cappella group, the Dartmouth Decibelles, and has provided me a way to apply my knowledge outside of the classroom.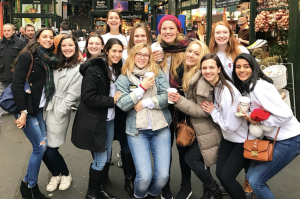 As a singer, it's important to understand just how the vocal apparatus works to maximize success. In class, I've learned places of articulation for various speech sounds, and these help explain why it's easier to sing on some syllables over others. Sometimes, a troublesome note may not be the issue; it could actually be a difficult syllable to sing on, and changing it can completely fix the problem.
Janvi Kalra | Interested in Computer Science
I was fortunate to be given the opportunity to work in Professor Devin Balkcom's Robotics lab this term, and will continue my work into part of the summer. Working in his lab has given me a chance to see how computer science is being used to solve currently unanswered questions, and has given me a chance to learn beyond the constraints of a course syllabus. I think working in a lab like his enhances one's tenacity, independence, and intellect. Regarding tenacity, unlike homework assignments where you can ask TAs (who are definitely sent from God) for help, there are no quick answers in research. As such, when my team and I are stuck, we need to persevere by trying new strategies. 
The lab also requires a lot of self-learning of things we haven't learnt in class, which in turn builds independence. And finally, every time Professor Balkcom introduces a new concept to us, I learn a myriad of different things. I like to think that that getting mind-blown builds intellect!
 
Revant Ranjan | Interested in Economics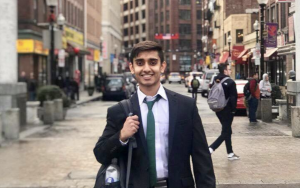 Although Dartmouth is firmly rooted in the liberal arts tradition inside the classroom, I have had the chance to explore my academic interests in pre-professional settings through extracurriculars.
Outside the classroom, I analyze and pitch stocks as a member of the Dartmouth Investment and Philanthropy Program, a $500k portfolio of equities that is used to generate funding for other clubs on campus. In the Dartmouth Finance Society, I gain exposure to financial news for a variety of asset classes and advice on internships and careers from upperclassmen. And as a member of the Dartmouth Consulting Group, I am able to do case work, firsthand, with startups in the Upper Valley region. With hopes of one day working in finance or consulting, I believe I have been provided with the tools necessary to delve deeper into these fields.
 
Stephanie Paola | Interested in Pre-Med, Spanish, Government
Just by being interested in a subject, you can take advantage of the many resources Dartmouth has to offer in that field of study. Despite my lack of prior experience in the world of medicine, I began working as a research assistant at the Dartmouth-Hitchcock Medical Center the day I set foot on campus. During my winter and spring term, being selected as a Pathways Scholar and serving on the Nathan Smith Society's Executive Committee (respectively) enabled me both to connect with other minorities and people of color interested in medicine or health and also honed my leadership abilities in the academic field at Dartmouth. All of these experiences and Dartmouth's Center for Social Impact helped me land my internship at the East Boston Neighborhood Health Center this summer and land a position as a 2018-2019 Global Health Fellow starting next fall.
Dartmouth has limitless opportunities, but it's up to you to reach out and make the best of them!