You are here
« All Posts by this Blogger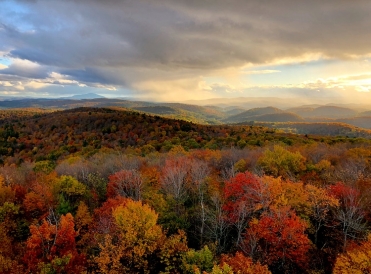 A Weekend in Hanover
School is hard. Classes are tiring. But it's okay, because when the weekend hits, you have time to enjoy Hanover! This particular weekend my friends and I decided to hike Gile Mountain, a trail near campus to a tower which gives an incredible view. It so happens that this weekend happened to be "peak foliage" in Hanover, and needless to say, the hype did not disappoint.
We woke up that morning and it was cloudy and rainy, which originally was a bummer. Thankfully, by the time we decided to go it cleared up. As we were walking to the car, this happened!
Once we got to the trailhead, it was kind of cold. My northerner friends made fun of me, claiming that as a Texan I will never survive the winter, but hey, I'm trying my best.
Once we reached the top, we climbed up Gile tower to get that iconic view we were waiting to see. 
Red! Yellow! Orange! Everywhere! It was incredible. I'd never seen a view like it. But then it started raining. At first we were alarmed, until this appeared.
All in all, it was a fantastic break from the library, and a fantastic hike. A perfect climax to a wonderful weekend.
As a religion major, I am captivated by Portugal's complex religious history and was eager to learn more about the country on the ground.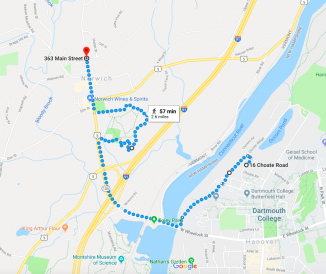 My high school track days may be over, but I came to Hanover knowing I wanted to keep running, for the sake of fitness as well as my mental well-being.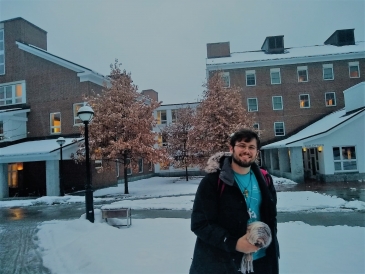 It houses 342 undergraduates, distributed between the various Living Learning Communities.
It's 3AM – a long night of studying nears its end, and my fading mental capacity beckons me to the cozy comfort of my bedsheets.
I have known a simple fact for most of my academic life: I would rather take an exam than write a paper.
Maybe because I literally have a tattoo of a mountain, or just because I like the outdoors, I find myself going on lots of hikes and really liking to explore the wilderness around campus.
During my time in Edinburgh, I am able to take six weekend trips to visit different countries (seven, if you count my trip back to Hanover for Homecoming).
The concert was organized by Friday Night Rock, a student-run organization that holds small-scale concerts on campus.
A hub for political discourse and debate, The College is a frequent stop for candidates and speakers as they promote their platforms, not to mention the opportunity this brings for student activism.