« All Posts by this Blogger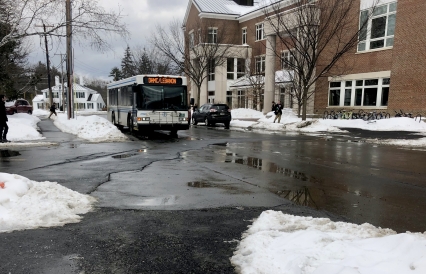 Public Transport: Getting Off-Campus with the AT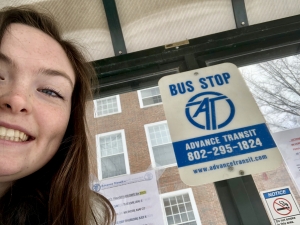 A lot of times here at Dartmouth you will need to get off campus, and sometimes cars are hard to come by. Whether it be for research at the Dartmouth Hitchcock Medical Center (DHMC) or if you just need to get out into Norwich or White River Junction to have some fun with friends, the AT has got your back. Good old public Advanced Transit.
As aforementioned, I usually need the bus to get to the DHMC, where the lab I intern at is located. I typically get on right near my dorm, and on the way back get off at the stop that drops you right behind Baker-Berry library so I can go get some work done. It's really nice to be able to have such quick and easy access to the hospital because it really gives you access to a lot of cool opportunities. While my internship is at the hospital, my roommate is a part of the Nathan Smith Society where she gets to go to the hospital once a week and shadow a neurosurgeon and sit in on surgeries, which is so incredibly cool. She also takes the bus!
In general, it only takes about 15 minutes to get from campus to the DHMC, and there are numerous conveniently placed stops along the way. One stop, in fact, lets you off at the Dartmouth Coop grocery store, which is KEY for when it's winter and it's cold and you want to buy some strawberries or other food that's hard to come by in a college dining hall.
But there are so many more places the bus can take you! One time my friends and I took the bus across the river to the King Arthur Flour company, affectionally called here, big KAF. You can also go to White River Junction, West Lebanon, and other nearby places. This isn't as common among Dartmouth students as the blue line to the DHMC is, but nonetheless, it is an opportunity that is there if you need it.
All in all, the bus makes it easy for you to get to the places you need to go! Hanover isn't as secluded and in the middle of nowhere as you'd think, I promise.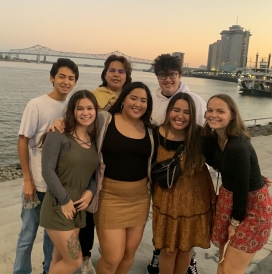 But at the end of the day, when people ask me what my favorite Dartmouth memories are, I'm always thinking about the place. Ice skating, pink sunsets, riverbanks, or canoeing? That's my highlight reel.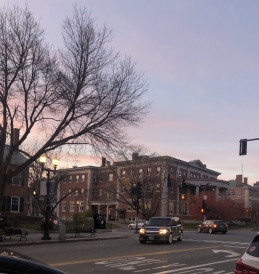 The last week of October was especially ~spooky~ as I was able to find more time than usual to enjoy my weekend with friends and the small-town-charm of Hanover.

While the student body at the College may be relatively small, students here recognize that their vote can hold a lot of weight in New Hampshire, a classic swing state. 
Fall is definitely in full-swing, and with Halloween right around the corner, I think I'll reflect on the meaning of this holiday — particularly during a pandemic.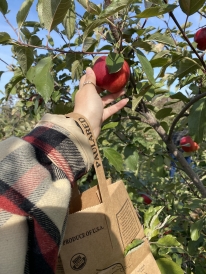 Hopefully you all caught that slightly altered Mean Girls reference! While Regina George wasn't exactly going apple picking with her friends...I think she should've been! Here's a look into my own day of apple picking!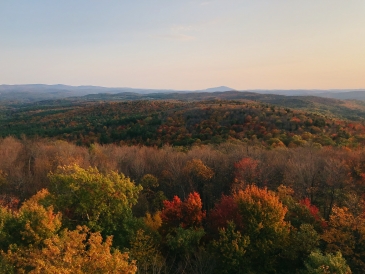 Hey blog, I'm not in California anymore! Visiting Gile Mountain is a magical 75-minute escape from campus into the breathtaking wilderness of Norwich, Vermont.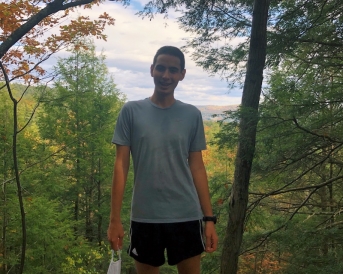 As I write this I'm covered in my fluffy blanket, listening to a ~fall vibes~ playlist as the 36-degree crisp October air enters my room through my window. Obviously, fall in Hanover has been one of the most amazing experiences of my life!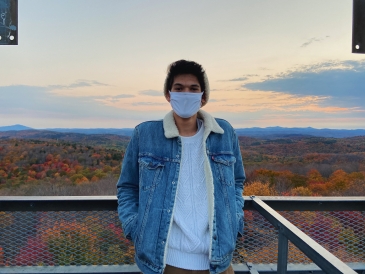 I moved in a little over a month ago, so I thought I would look back at my first month of college and share some thoughts.

With current COVID-19 restrictions, the Dartmouth Outing Club (DOC) had to rethink the way that they run their outdoor excursions. Instead of completely scrapping ways for students to enjoy the beautiful fall landscape, they bought e-bikes!