« All Posts by this Blogger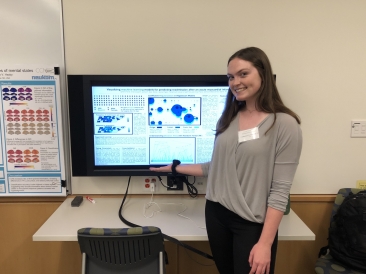 Presenting Research at the Wetterhahn
This past Friday Dartmouth held the 28th annual Karen E. Wetterhahn Science Symposium in the Class of 1978 Life Sciences center. It is a unique opportunity for undergraduate students engaged in STEM research to present their findings to faculty, graduate students, campus administrators, undergraduates, friends and family alike. I participated as a Women in Science Program (WISP) intern, presenting a poster entitled "Visualizing machine learning models for predicting readmission after an acute myocardial infarction".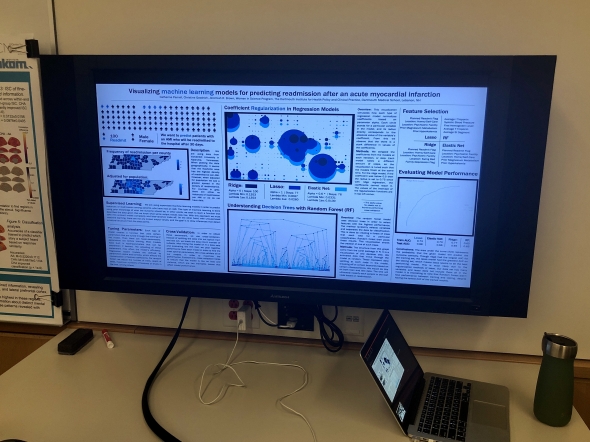 I began participating in this research through the WISP program, a program I would highly recommend for any and all aspiring female-identifying first years that are interested in anything STEM related here at Dartmouth. This was a two-term program, but I intend to stay working with my lab for the following year. I've had a terrific experience.
Presenting a poster at the Wetterhahn Symposium is required for all WISP interns, but it was really a great way to not only create a culminating product of your own research but furthermore, to learn about other types of research here at Dartmouth. It was especially interesting for me to hear about the research of my friends, as I had heard so much about them working at their respective research labs, but never had the opportunity to discuss the specifics of their research in-depth. Also, my friends who aren't involved with research came and I got to share what I have been doing for all these weeks with them!
Before we presented our posters, we listened to the keynote speaker, Paulina Jaramillo, Ph.D., who talked about how she became involved in her research in energy development in Africa. It was inspiring to hear her story. Her advice: never feel like you don't belong. You made it here for a reason and are capable of achieving anything. Also, she added, go to therapy. Mental health is important.
Overall, I really enjoyed being part of the event. It was a fun way to be able to celebrate research in STEM here at Dartmouth.