You are here
« All Posts by this Blogger
The O-Farm? We Dig It.
It all started with a blitz (the Dartmouth lingo for email). It was a spontaneous decision, but after a long day of homework and classes, a nice trip to the farm sounded like the perfect opportunity to relax and have some wholesome fun.
If you had told high school me that I would be hanging out at an organic farm in college I would have probably just laughed in your face. But hey, this is college, which is all about trying new things. So there I was, taking advantage of the opportunities before me and heading to Dartmouth's own organic farm!
The O-Farm is conveniently situated less than ten minutes away from campus along the Connecticut River. Dartmouth owns 220 acres of land from gardens to forests and everything in between. It's very picturesque. Given the wide range of types of land here, there are so many opportunities for students to get involved at the farm. For me, I opted for a nice Friday afternoon fireside hangout. There were chips, hummus, tea, the organic farm's very own carrots that were just recently pulled from the ground, and of course, a campfire. Nothing beats relaxing by the fire with your friends, while taking in the gorgeous scenery of the Upper Valley. It was amazing. I would highly recommend.
For this post, I'd like to bring you on a virtual trip: Hanover, summer edition!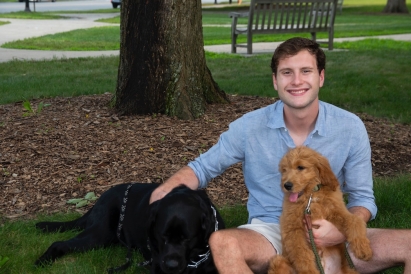 I'm back on campus for my second straight summer in Hanover, and there's been one consistent through-line over the past year—some delightful dogs.

There are a few things that have been noticeably different about this term compared to others, all of which I have appreciated!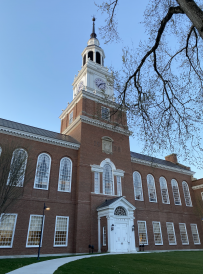 As we approach graduation day, I continue to reflect on my time at Dartmouth. I've learned a lot about myself over the course of the last four years, but here are three of the most important things I've come to realize...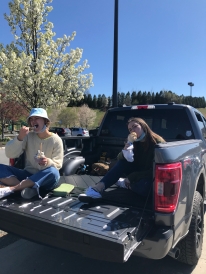 Spikeball on the Green, cherry blossoms in front of Baker….as spring is arriving here in the Upper Valley, I thought I'd write a quick post about my favorite things to do near campus this time of year!

This week, I had the amazing opportunity to take a rock-climbing class at one of the country's best climbing spots: Rumney, New Hampshire.

The trees are full, flowers are blooming, and the weather is gorgeous.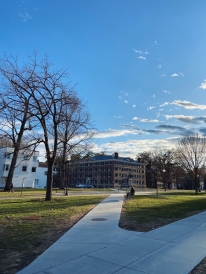 Here are a few of my personal favorite areas to spend time in when I'm on campus!

Over a course of a few days, I ended up adding five books to my personal collection - after having not bought a book in months!