« All Posts by this Blogger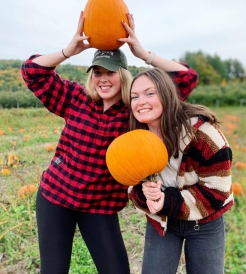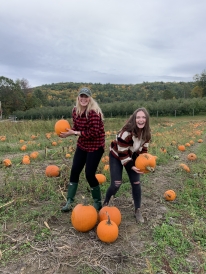 Jul and Catherine Pick Pumpkins!
It's Hanover. It's October. What does that mean? Well, it's finally fall. Full of sweaters, pumpkins, peak foliage, and all-round good vibes. So naturally, fellow blogger Jul and I just had to go to the pumpkin patch.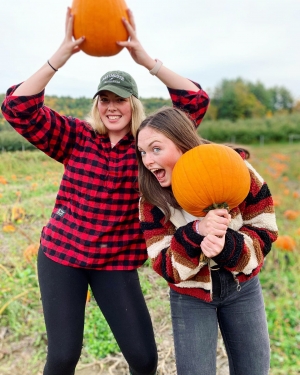 We drove about 20 minutes away to Riverview Farm, a quaintly situated farm that grows way more than just pumpkins (including but not limited to apples, blueberries, raspberries, and assorted flowers). You can go pick any of the above, or you can go get a pre-assorted bag of apples or arranged flowers from the shop. They also have different types of popcorn and apple cider for sale.
However, Jul and I were determined to pick our own pumpkin, and to get some cute pictures while doing it. Even though Riverview Farm is a common Dartmouth student location, neither Jul nor I had ever been there before. Needless to say, we were excited.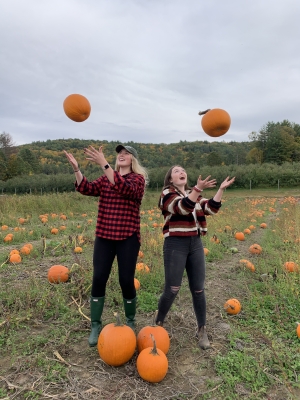 The pumpkin patch is on the main chunk of the farm's land; the orchard surrounds the patch. As you look in the distance you can see the peak foliage gracing the mountains, and the green apple trees hugging the perimeter. Especially contrasting with the bright orange dots of scattered pumpkins, the view was gorgeous. Not to mention that the weather was absolutely perfect, just cold enough for a nice snug fall sweater, but not cold enough that we couldn't enjoy the beauty of the autumnal Upper Valley.
As we made our way through the pumpkins, Jul finally found the perfect one. Small, delicate and round, with barely a blemish of dirt. It is now currently sitting on the kitchen table of her off-campus home. It has been confirmed by her roommates that she will not stop gushing about how much she loves this pumpkin. It is the pinnacle of her home décor.
Being from Texas, I haven't ever gotten to experience true fall until my time at Dartmouth. While I'm here I intend to hit all of the "Upper Valley Fall Bucket List" items that Dartmouth students love to indulge in. Thankfully, these fun excursions are so much better when you have amazing people like Jul to do them with!