« All Posts by this Blogger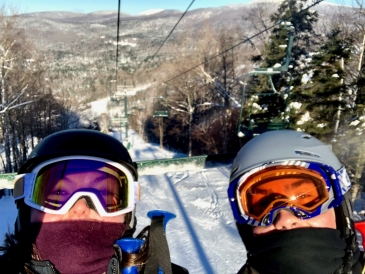 How to hit the slopes: Dartmouth Skiway 101
I had been to the skiway in the fall as part of my First Year Trip, but now that it's winter, it's covered in snow! That means it's ski time!
As soon as I got the chance I was ready to go hit the slopes. I rented my skis for the season and got them fitted at the end of the last term. I got together all the accessories including helmets and goggles, and then I was good to go. The bus leaves from Baker-Berry library every hour on the hour on weekends. It drops you off at the Dartmouth Skiway, in front of the lodge that you can get food and rent skis at. There are two mountains to choose from, each with its own web of slopes and runs. Though the snow is kind of icy, the runs are so much fun. And, more importantly, the view from the top is nothing short of incredible.
Skiing is definitely the best way to enjoy the cold. And to be honest, it was freezing. Albeit, it was a good kind of freezing. The kind where it's just cold enough such that you feel it, but not immobilizing. However, I'm really glad I decided to buy a ski mask at the lodge before heading out…my poor face definitely needed some protection from the wind.
After a long day, my friend Emory and I hit the lodge to indulge in a nice post-ski snack – a burger and fries. We enjoyed our meal as we looked out the window, facing the mountain as the skiers came down. I will say, the burger was pretty fantastic, or maybe I was just really hungry. Either way, I enjoyed it.
It's so easy to ski here, the mountain is only a quick and scenic bus ride away. So many people do it. It's tons of fun running into friends and people you know on the slopes! And it's a great way to stay active and have fun in the dead of winter. It was so worth the hassle of carrying my skis all the way from my dorm to the bus stop. All in all, Dartmouth Skiway? 10/10 recommend.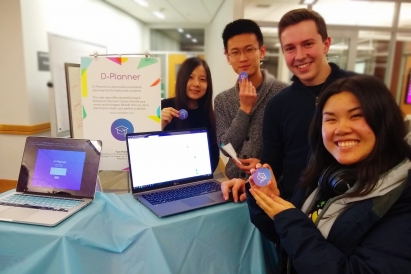 It's the DALI Lab, where any student can apply to become a collaborator and work with non-profits, startups, or even students and professors who won the Pitch event and got their ideas into the lab!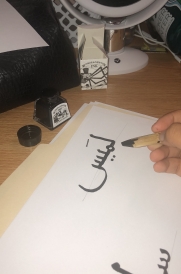 Every Thursday students who study or are interested in Arabic converge in the lounge of Bartlett Hall to discuss topics related to the various cultures of the Middle East and North Africa over sweets, biscuits, and Moroccan tea.

There is Mardi Gras down south, Carnivals north into Canada, but here in Hanover the weekend before Lent doesn't really have anything special most years. Most. This year, we held the party of a lifetime.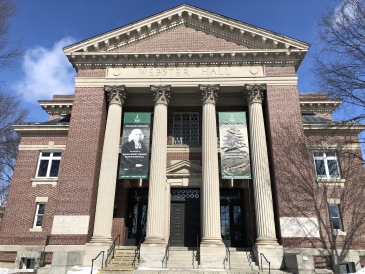 Research projects can be intimidating for many college students. With demand for an extensive amount of academic sources, research presents various high hurdles and challenges.

Melissa Barales-Lopez
2022
One of the reasons I chose to go to Dartmouth is the quarter system. Ten-week terms make learning short and sweet.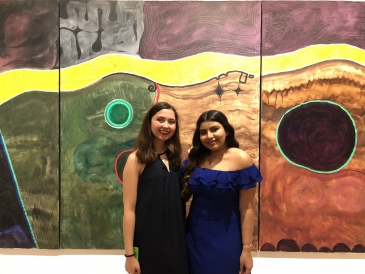 Their choice of venue was pretty incomparable: Dartmouth's Hood Museum! We dressed up for the event that was impeccably organized with catering, live performances from student groups (such as Street Soul), and a DJ.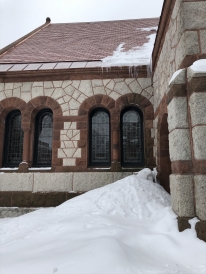 Space is important in Dartmouth College and several buildings receive special attention from the community. Dartmouth Hall, Baker Library, and the beloved Green are all notably significant locations in the history of the College.

Melissa Barales-Lopez
2022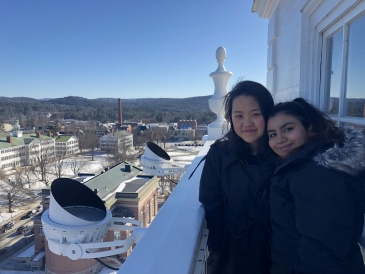 Every term, Dartmouth has one big, traditional weekend celebration. The big event of every winter term is Winter Carnival.

When I first drove up to Dartmouth for my admissions tour during my junior year of high school, I remember immediately seeing the clock-face of Baker tower and knowing that I had arrived on campus.