« All Posts by this Blogger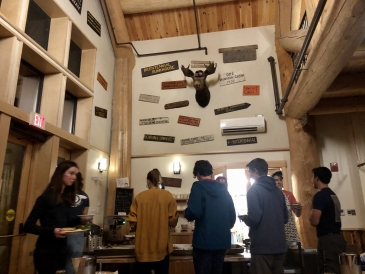 A DOC Fall Weekend at the Lodge
This past weekend I spent my Saturday with the Dartmouth Outing Club for DOC fall weekend. Fall weekend is where a bunch of sub-clubs from all over the DOC run various trips all over New Hampshire, and they all end up at the same place: the Moosilauke Ravine Lodge. The lodge is infamous in Dartmouth lore; it is where trippees spend their last night of trips and trips crews spend weeks of their summer. But it is open to anyone and everyone to go at any time!
I went on a beginner/intermediate climbing trip to Rumney where I was able to learn how to lead climb for the first time. I've recently been trying to get involved with climbing, and I've found it to be an incredibly fun and rewarding hobby. A few people on the trip had never climbed before so that was really cool to get to be there for that experience, since the first time I ever climbed was last spring, for spring weekend, the fall weekend equivalent. Plus, it was an absolutely gorgeous day and I'm so glad I got to spend it outside. The conditions, though slightly chilly, were absolutely ideal.
After we left Rumney we booked it to the lodge for lodge dinner. It is universally accepted that lodge dinners are the best dinners. The food is entirely vegetarian and gluten free, and they have many accommodations for those who need them. For big meat eaters like me, this was at first very daunting, but I'm telling you the food is incredible. I don't know what kind of special secret magic they sprinkle in it, but I'm telling you, the magic of the Moosilauke lodge works wonders. It is three full courses of yummy goodness. Our trip couldn't stop talking all day about how excited we were for this dinner, and afterwards, we were not disappointed.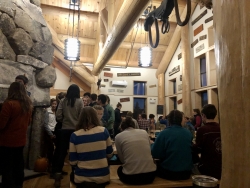 After dinner, they had a concert where some guys from the DOC played some fun songs on their instruments. Sadly, I had to get back to campus, but many people stayed overnight. You get to sleep in cabins and get ANOTHER lodge meal–breakfast! I haven't spent the night before besides on trips but it is definitely on my Dartmouth bucket list to do it soon.
Being able to have such incredible experiences with such cool people are one of the things that makes Dartmouth so special for me. Besides being able to develop a new passion for something like climbing, wholesome time spent at the lodge with friends, new and old, is an experience so uniquely "Dartmouth" that it brings me so much joy.