« All Posts by this Blogger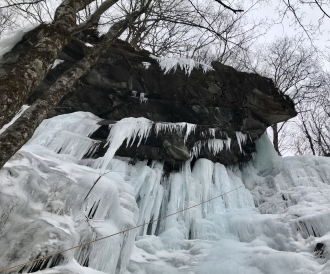 Climbing Ice!
Here at Dartmouth I have gotten into climbing—one of the most fun and versatile sports out there. My friend Shosh and I, who I normally go the climbing gym with, decided to be spontaneous and check out ice climbing, as once it gets so cold you can't climb rocks outside, since it's all ice. We signed up for a beginning ice climbing trip with the DMC and made our way to Holt's Ledge.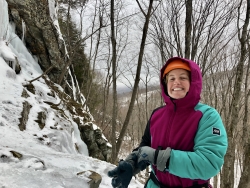 I have actually been to Holt's many times before, in different capacities. For my first-year trip I was in hiking two, and we hiked the Appalachian trail to Holt's Ledge. Holt's Ledge is on the Dartmouth Skiway, and in the early fall, it offers a fantastic view out across the Upper Valley. Also given its location on the Skiway, I have skied past it many a time. In the winter though, Holt's Ledge is covered in thick ice, and is hot spot for ice climbers like us. You hike down such that you're underneath the ledge and climb to the top. It was honestly wild to see Holt's from such a wildly different perspective.
I wasn't expecting to like ice climbing that much—there is a wide divide among climbers that only ice climb because it's what you do when you're a climber without access to real rocks in the winter and those that actually genuinely enjoy it. I thought I would fall in the former category. However, it was so much fun. Ice climbing is less technical than rock climbing in that you aren't as limited by the shape of the ice you're climbing. You use tools—axes in your hands and crampons on your feet—to easily scale up the side of large blocks of ice by swinging your axe into the surface and kicking your crampon into place. The feeling of swinging your axe into the ice and making a clean hold is quite possibly, I think, one of the most satisfying feelings in the world. I loved it.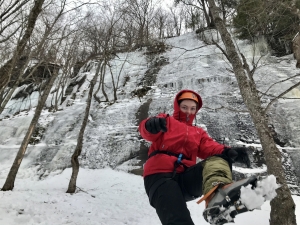 The DOC is involved in multiple initiatives to make the outdoors more open and accessible. Ice climbing requires a lot of gear, and I never realized how expensive it would be for me to try to go purchase this gear for myself. Thankfully, I was able to use all the gear for this trip free of charge, as with any other DOC trip. Furthermore, I discovered that they actually don't make women's specific mountaineering boots, or at least if they do, they are discontinued or hard to find. All three of us girls on the trip had trouble sizing our feet to the men's sizes. It really opened my eyes to the importance of accessibility in the outdoors—an issue which I didn't see as particularly pertinent until this trip.
I hope to be able to take advantage of the weather here and go ice climb more this winter. It was a great time, and I would highly recommend.