You are here
« All Posts by this Blogger
Classes at Dartmouth: Gandhi!
Course selection. Fall 2018. I'm a first year. I don't have a major yet. I can take (basically) anything I want. What happens?
Gandhi, 20th Century India, and the World.
Random, I know. But for whatever reason I was drawn to this class. I read the syllabus and it looked fun! I went to the History open house, met the professor, and then decided to throw all care to the wind. I was going to take this class.
I get there on the first day and there are six people. At first I was a little scared, since I'd have to always be attentive, I would never get to hide. However, quickly my fear subsided. It became easy to speak up, to get to know the professor, and to learn a lot more. It's a classroom environment like no other I've experienced before.
Honestly, never in my life did I think I would know this much about Gandhi. We read a lot. Almost every class there are readings due. And yes, those books down there? I've read all of them.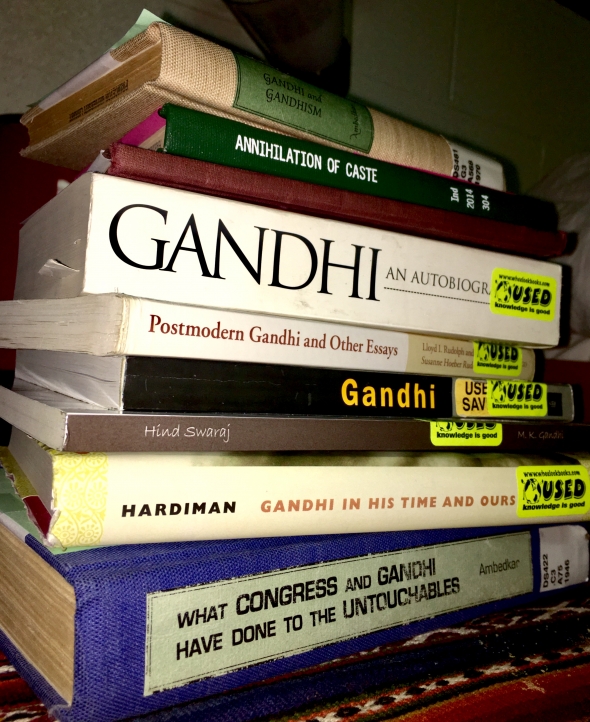 In fact, the other day my professor mentioned he had recently met Asit Bandyopadhayay (an author whose articles we are reading), which naturally, we found really cool. But THEN he just casually mentions that he's actually personal friends with Hardiman and Arnold and all these authors we're reading, which is crazy! When he asks us, say, "what's Hardiman's argument here?" he actually knows what his argument is because they're actually friends. I was pretty shook.
Currently, we are in the midst of in-class debates where one of us in the class plays Gandhi and another plays someone opposing Gandhi. For example, I got to play Ambedkar where I debated Gandhi on the subject of caste and untouchability.  I got the chance to fight Gandhi and tell him he was wrong, as part of the class. Honestly, I was thriving. Life. Made.
But all in all, history has really helped me in my other classes. In Writing 5, some of the readings and one of the essays I wrote overlapped with some of the thematic ideas I've learned from my Gandhi class. Now for my final research paper for writing, I am integrating the two ideas and comparing and contrasting sentiments I've learned from both classes. All in all, taking history has been so rewarding and such a good experience. I look forward to my next class within the department.
The moral of the story is be spontaneous. Take classes that interest you. Have fun! Try new things! That's what college is for!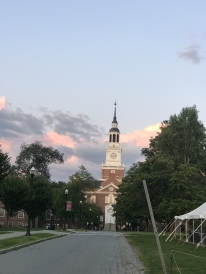 People, such as myself, often use sophomore summer to take a two-course term, which allows for a greater enjoyment of the term.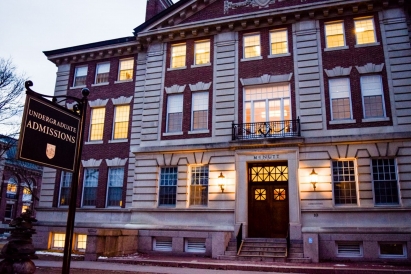 One of the first projects I'll be working on is reviewing our content and messaging for international students.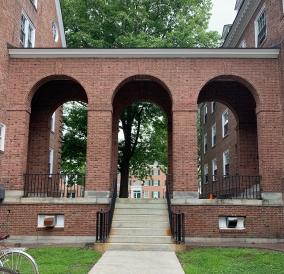 Dartmouth is known as a liberal arts college (LAC), but what does that mean?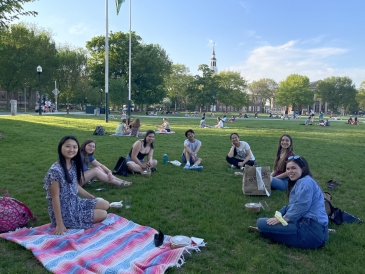 When I entered college, I was super excited to join The Dartmouth news staff, which is, fun fact, America's oldest college newspaper. Journalism is an awesome way to grow as a writer, hear stories, work on a passionate team, and report the truth!

I highly recommend Comparative Literature 39.10: European Fairy Tales, or, as I affectionately refer to it, "the fairy tale class."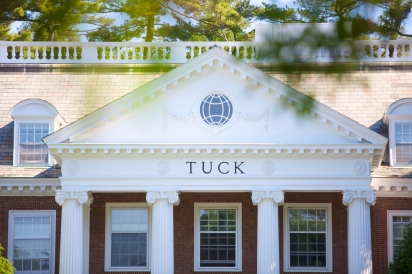 Although I'll be engaging in a variety of programs this summer, I wanted to first introduce the Tuck Business Bridge program, which I spent most of June partaking in!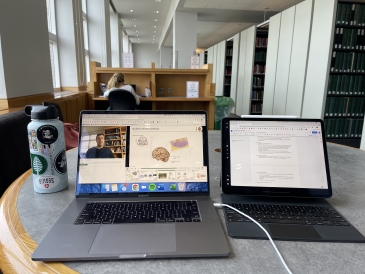 When I was applying to colleges, I absolutely loved watching 'A Day in the Life'-style vlogs. I wanted to share what a typical Monday at Dartmouth is for me to show there is truly never a dull moment here in Hanover, New Hampshire!

I've taken nine classes (three/term) ranging from international development to education to economics. I can't believe this term will wrap up my freshman year. Come learn about my English, psychology, and math classes I'm taking this spring! 

We're just past the halfway point for spring term! For this blog post, I wanted to write about my classes because 1) I'm absolutely loving them and 2) I think they are reflective of some standout strengths of the Dartmouth curriculum.