You are here
« All Posts by this Blogger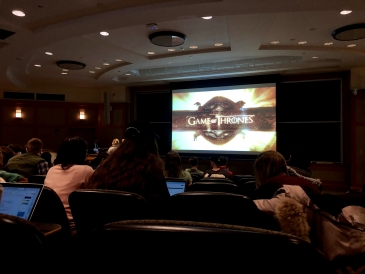 A Class on Game of Thrones?
Game of Thrones. Global phenomenon. Final season coming up soon, April 14th. What better way to prepare than taking a whole class devoted to Game of Thrones itself?
That's exactly what I chose to do.
This Winter term I decided to take ENGL 53.36: Game of Thrones: Re-Imagining Medieval History as an Allegory of the Present. It is an English class devoted to studying Game of Thrones, focusing on the meaning of adaptation between the book and the show. We read A Game of Thrones, the first novel of George R.R. Martin's A Song of Ice and Fire series, and then watch both season one and season seven of the show. For homework. It's great.
We have class on Monday, Wednesday, and Friday. Mondays and Wednesdays are for lecture, with lecture topics range from "Poison, Contagion, Beheading" to "Climate Change: Great Re-Awakenings." Meanwhile, Fridays are devoted to a class discussion. Each Wednesday we write a discussion post and a group of students responds to the post before class time on Friday. This facilitates a lively discussion in class over a different chosen topic each week. We've discussed every aspect of race, gender, and justice, among other topics. Using various theories of adaptation, we debate how the various changes from novel to show have changed the meaning and resonance of certain themes.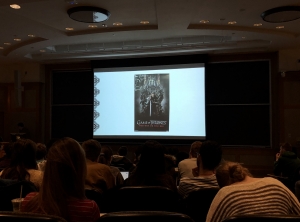 Getting to take cool classes like this one is a benefit of the liberal arts education that I wouldn't trade for the world. I can't believe I get to take such a cool class. In fact, besides getting to analyze one of my favorite shows, this class even fulfills a distributive requirement. This class is helping me graduate. On top of that, the professor who teaches it is fantastic. I hope to take another class with him next year.
Now, after this class, I'm equipped with a whole new understanding of analysis of media. It has totally changed the way I watch the show, as I now see a whole new depth to different scenes, characters, and callbacks. Come season 8, I can't wait to see who ends up on the Iron Throne.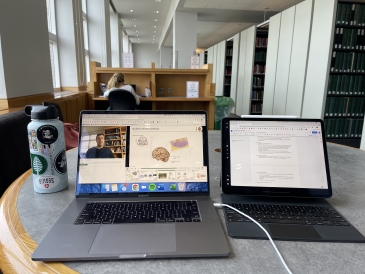 When I was applying to colleges, I absolutely loved watching 'A Day in the Life'-style vlogs. I wanted to share what a typical Monday at Dartmouth is for me to show there is truly never a dull moment here in Hanover, New Hampshire!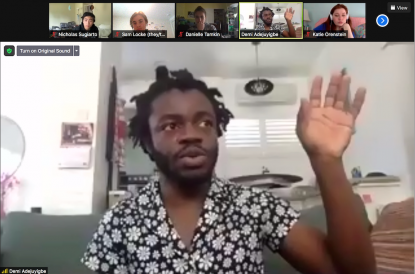 At Dartmouth, you have a unique opportunity to talk to really, really cool people. And, if they're not coming via official Dartmouth programming, you can invite your own speaker!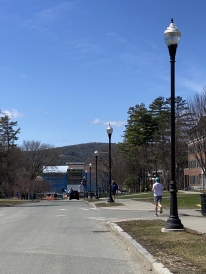 I decided to put some of the most popular questions together and provide some answers for future prospective students who also have these questions on their mind!

We're just past the halfway point for spring term! For this blog post, I wanted to write about my classes because 1) I'm absolutely loving them and 2) I think they are reflective of some standout strengths of the Dartmouth curriculum.

"Undergraduate focus!" "Undergraduate focus!" "Undergraduate focus!" But what does that mean? It means the professors and faculty are extremely approachable and help you in your educational journey any way they can!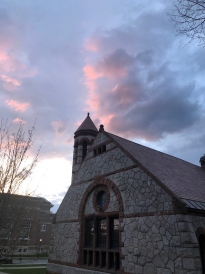 Considering that we're almost halfway through the term, I thought I'd do a little what I do in a day, especially since I wasn't on campus last term.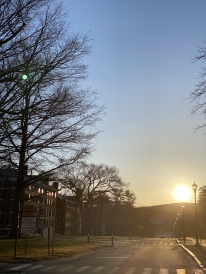 Welcome to my "Welcome to 21S" post! As I reflect on my sixth term at Dartmouth, what stands out to me is that it has been a full year since Covid-19 changed our world.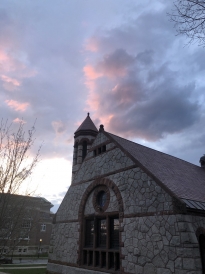 "Big Data Science in Hydrology" pulls content from computer science, environmental statistics, and hydrology—the study of the movement of Earth's water—to form a really interesting interdisciplinary class.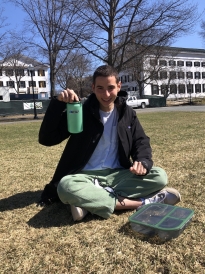 Spring has sprung in Hanover and the term feels like it's really getting off the ground with classes starting up in full swing, warmer weather, and the occasional muddy day.