« All Posts by this Blogger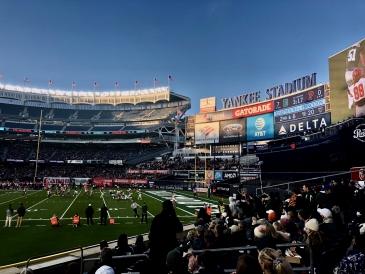 Big Win for Big Green!
Dartmouth football is 8-0, and just beat our biggest rival, Princeton, snapping their 17-game win streak. This is huge. What makes this win even better? It was at Yankee Stadium in New York City, commemorating the 150th anniversary of college football, on the year of Dartmouth's 250th anniversary.
As someone from Texas, I come from a big football family. Especially, a big college football family. I grew up rooting for my parent's alma mater. Dartmouth, compared to about any other school I was considering, does not have a big football culture, and parts of me miss that. But being able to go cheer on my undefeated team, in Yankee Stadium, made me feel a bit better about that.
It was so much fun. So many students found a way to get to the game. A couple of housing communities sent up buses to the game. Some people even made a whole New York City trip out of the weekend. Personally, my friends and I rented a car and were able to make the trip there and back within the day, with a trip to Chick-fil-A.
Besides all the students at the game that came from campus, there were also current students that were on their off term in New York that came. A lot of alumni in the area, including a large amount of '19s, came too to cheer on their team. There was a lot of Dartmouth energy, and a lot of Dartmouth pride.
Within the first few minutes of the game, we made an interception for a touchdown, and that play set the tone for the rest of the game. It was electric. It was insane. It was some really good football.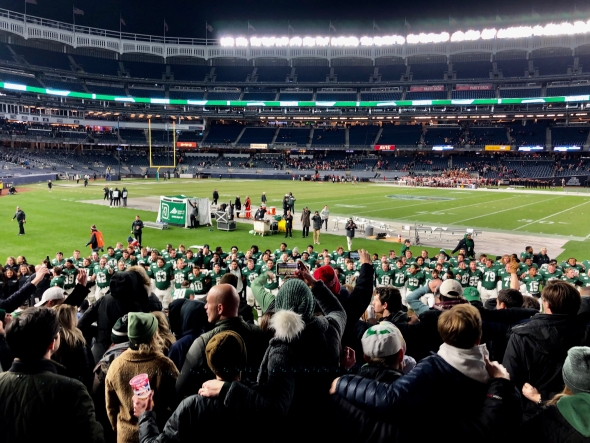 Now we only have two more games left in our season, and two games left to win in order to win the whole Ivy League. Go big green!