Transitioning as a First-Gen student
In an earlier blog post, Finding Community as a First-Gen Student, I talked about how FYSEP helped me find community at Dartmouth and how it made transitioning easier. However, transitioning to Dartmouth doesn't happen entirely within your first term; it's a continuous process. When the term began, we held our first "FYSEP retreat," and then the first community dinner of the term where we got to meet up with everyone on campus.
For the most part, you've read about how FYSEP has played a huge role in facilitating my transition to Dartmouth. However, it's not always so "peachy." At times, some of us First-Gen students can feel as though the College does not always cater to our needs in the same way it does for the rest of the student body. When I have moments like these, I schedule a meeting with Jay Davis, who is one of the greatest human beings you'll ever meet. Jay serves as the advisor to FYSEP and consistently advocates for First-Gen students. I would be lying if I said being a First-Gen student at Dartmouth is always easy. However, thanks to people like Jay Davis, we find ways to navigate within this institution and thrive.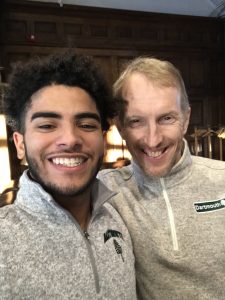 Three days after the retreat, we held the first dinner of the term, which was well-attended and filled with great food. Each term, it's hard to predict who is on campus because of the D-Plan, which is your enrollment pattern here at Dartmouth. At the dinner, we got a good sense of which FYSEP students were on this term and who might be off. We talked about what we did during Winterim, how our classes were going, if we had visited our professors during office hours (this is key!), and how we were doing overall. Combine amazing people with good food and you have the perfect atmosphere for great conversations.