« All Posts by this Blogger
Pizza, Gelato, and Blueberry Fish Tacos
It has certainly been a unique week for me here in Hanover, from Tri-Kap getting a new puppy to midterms taking their final bow. But there's one thing that has really set this week apart in particular, and that's been food. From gelato to fruity fish tacos, this week has been really unique in showcasing what exactly Dartmouth has to offer, and so it's prompted me to do a little bit of reflection. While The College's normal dining options offer a wide variety of awesome meals, it's sometimes nice to dish out a few dollars of your own to get a taste of the incredible food in the area.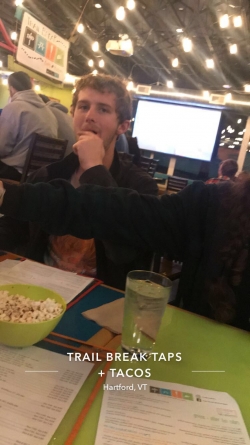 Sometimes, that doesn't even mean leaving campus. On every Wednesday, there's a farmers market that takes over the Green, so students have prime access to an endless supply of kettlecorn, fudge, and a bunch of other awesome treats, both from homemade vendors to restaurant stands. Though, that's certainly not the only option for hungry students who seek to expand their horizons; the Houses oftentimes offer a bunch of food thats completely free to students, such as School House having free brick-oven pizza and maple creme this week, or midterm support sessions with free Lou's pie. Throwing DOC feeds in the mix, which are student-cooked meals sponsored by your favorite sub-club, it's honestly sometimes difficult to confine yourself solely to college-supplied dining options. Altogether, you never need to look far to throw something new into the mix.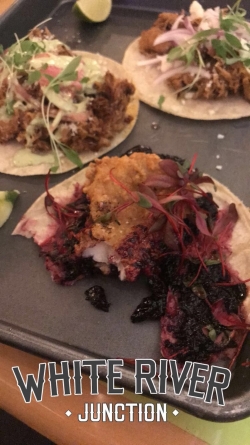 If you're fine with taking a little bit of a journey off-campus, there's some even more wonderful places to grab a bite not too far away. Whether that means a short walk to Morano Gelato in town (which offered a discount to students this week, and then my UGAs offered to take us again for free on top of it all) or a little bit of a hike to the big version of King Arthur Flour across the river, there's plenty more within walking distance. If you can fetch yourself a ride, there's an awesome ski-themed southwestern place in White River Junction about ten minutes from campus, which I would contend was not only great food, but an awesome atmosphere in which to grab a meal with friends. Overall, there's certainly no lack of new places to explore in the Upper Valley, and so it's a good place to be if you're looking to try some new food in college.
While I've been focusing on non-traditional dining options, certainly don't fret; I've been trying to showcase the other options in the area, but the College's food is great as well. Anyways, take a trip up to Hanover to try it all yourself, it'll be worth the adventure!