« All Posts by this Blogger
The Art of French History
France's history is spectacularly nuanced; it's packed full of legendary stories, secretive symbology, and breathtaking architecture, all concentrated within a country slightly smaller than the state of Texas. Exploring medieval feats and revolutionary tales, I've been recently exposed to an entirely new lens through which to view the events of past eras: through art.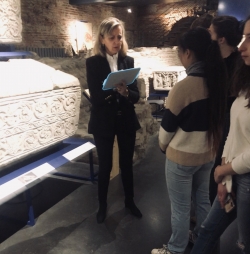 Now, I'll throw in a disclaimer: I don't tend to be particularly interested in the evolution of artistic methodology and interpretation, and that's what I've always thought of art history to be. Of course, it undoubtedly contains many of those elements (and the discussion of them is hardly avoidable in any in-depth historical study), but I see now that there's much more to it. It's not just about the history of art, it's about learning history through art, about interpreting artistic expression to understand a historical context. Plus, it's beyond just paintings and sculptures; it's gothic and Romanesque architecture, mysterious glyphs on medieval sarcophagi, things I never would have expected to fall into that category. Anyways, when I first heard that my Toulouse LSA's cultural element would be taught through art history, I was a little bit concerned. Now, it's safe to say that my expectations have been blown away, and in fact, I'm incredibly grateful that I was first exposed to it in such a historic place.
While our first couple of class sessions were at the university, we eventually shifted to having class in more fitting locations within the city itself. For instance, our first visit was to a museum built at on the site of an ancient necropolis, where we learned about the symbols on the sarcophagi of some of Toulouse's first Christians. It's important to note that at the time they were made, the Roman Empire had not yet converted to Christianity—Toulouse was the Roman city of Tolosa at the time—and so they were all engraved with secretive patterns and markings that indicated their Christian faith in a time when it was still illegal to practice. The next excursion was next-door to Toulouse's most well-known cathedral, Saint Sernin, which is the oldest major preserved Romanesque church in the world. While the public area of the cathedral itself is absolutely stunning, we gained restricted access up to a tight spiral staircase to the side balconies, where we were able to gain some extra insight into the architectural design of the building and ongoing preservation efforts. Next, and most recently, we had class in the Musée des Augustins, a converted middle-ages convent that houses sculptures and paintings from throughout French history, specifically preserved artifacts from churches destroyed during the French Revolution.
Happily, there's much more to come as well; with upcoming voyages to Albi and Paris to study even further, and not to mention there being plenty left to see in Toulouse, it seems as though we've only just begun. More stories to come!