Assistant Director of Admissions
You are here
« All Posts by this Blogger
What is Dartmouth Bound?
As the dust settles from another application cycle, campus is buzzing with visitors. Spring brings a wonderful mix of admitted students trying Dartmouth on and the new fresh faces of juniors just starting to wade into our pool. There is so much happening, from four information sessions a day, to the flurry of emails from prospective students in my inbox, to planning for our Dimensions of Dartmouth admitted student events. In the hustle and bustle of it all, I'm already thinking about Dartmouth Bound, the prospective student fly-in (or drive-in, depending on your location) program we'll be running this summer.
So… what is Dartmouth Bound?
If you're currently a rising senior from a historically underrepresented community, Dartmouth offers a visitation program for you to try out student life here. Best of all, we'll pick up the tab! The program takes place in July, right in the midst of Sophomore Summer, farmer's markets, and Dartmouth at its greenest.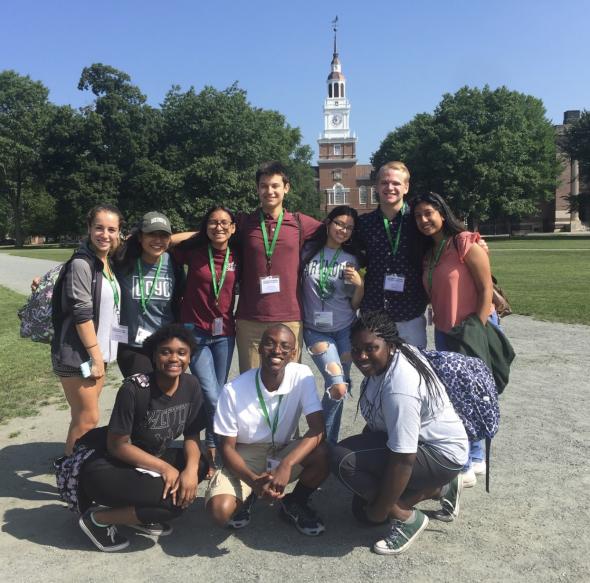 The three-day period is filled with programming and events, visiting classes, touring academic spaces, and meeting students and professors. One of the major highlights of the program is not only getting a chance to visit Dartmouth, but also getting the opportunity to see behind the scenes of the admissions process. You'll get to know our admissions officers personally as we run interview and essay workshops, case studies (where we flip the script and actually have you become the admissions officers), and other interactive activities. For example, one of my favorite events from last year was a panel of current students talking about different essay prompts throughout the years from a variety of colleges. We threw all kinds of questions at them, from "it's not easy being green, explain," to "what's in a name?" and "if you could invent a class, what would it be?" After getting a chance to hear from these students, our Bounders (the nickname we give participants of the program) turned around and answered these questions themselves, and all the while we worked on various essay tips and tricks explaining how the college admissions essay works and is essentially like a movie trailer of your life.
While the program will help you with your college application process and allow you to get a taste of Dartmouth, it's not without its fair share of fun. Last year was full of adventures, from having Dino, our Director of Financial Aid, rocked a chef's hat as we made pizza, to playing capture the melon with the Ultimate team.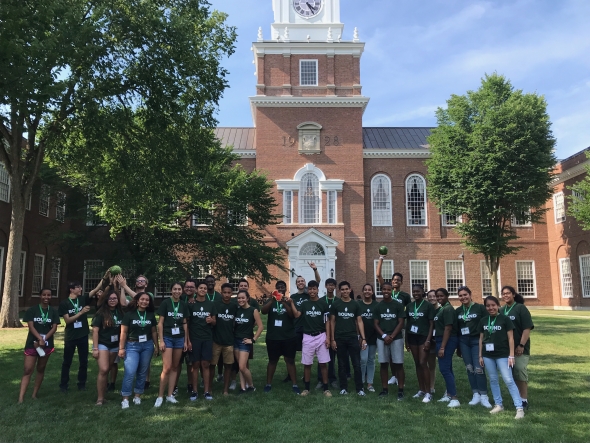 Some Bounders will matriculate here the following fall, like the lovely Diana Alvarado'22 who provided great photos for this post, and others will head in other directions. By the time all Bounders finish the program, they leave with a sense of how Dartmouth works to create an environment of kind and curious scholars from all backgrounds and experiences, as well as a better understanding of how to put your best foot forward in the admissions process.
If you're wondering if you qualify for this program, I highly encourage you to apply! Our application deadline for the 2019 program, which runs from July 15-17, is due on Wednesday, May 1. More information, as well as our application, can be found here.
If you have any questions about the program, feel free to contact me directly at ake@dartmouth.edu!