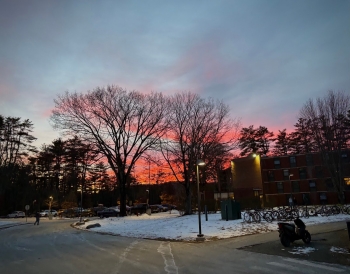 Not Your Typical Internship: Studying Global Health in Kosovo
Prishtina, Kosovo: capital of a land-locked Balkan country full of seemingly incongruous sights. Mosques and churches live on the same street, clothing stores sell luxurious gowns while unemployment remains high, and citizens often praise American politicians more than local policymakers.
This past summer, I had the opportunity to intern in Prishtina as part of a team of Dartmouth students at a nonprofit called Action for Mothers and Children (AMC). The Dartmouth Global Health Internship Program at the Dickey Center paired us with AMC to help research the rising rate of cesarean sections in the country. Using research methods we'd studied in a Public Policy course over the spring, we traveled to health institutions across Kosovo, conducted interviews with health professionals, and ultimately drafted policy briefs that would be presented to the Ministry of Health.
Throughout the process, our mentors at AMC proved invaluable, helping us schedule interviews, obtain data for analysis, and review drafts of our work. They made it hard to say goodbye at the end of the summer!
Although conducting research and learning about the health system in Kosovo was amazing, I also really enjoyed living with the two other Dartmouth students (Andrew and Kennedy, both '18s) and experiencing the joys (and woes) of working as a team. In between getting dressed up for interviews and dinners, we got to be silly, too (see attached personality pic).
Surprisingly, we weren't the only Dartmouth kids around! Four other '18s coincidentally landed internships in Prishtina that summer, and we'd often get dinner or visit regional landmarks together. We even got to hang out with an alum who works in Kosovo!
When we weren't working, we took weekend trips to explore the country. Some of my favorite memories include hitchhiking in Rrugova, a National Park in Kosovo, renting a car to explore Macedonia for a weekend, and attending Dokufest, an annual film festival in the historic city of Prizren.
Although exploring is always a fun time, the most memorable parts of this experience were definitely the friendships formed with the other students, as well as with staff and coworkers at AMC. While it's tough to express how they all impacted me in a short blog, I know I won't forget the relationships we formed, and I'm super thankful for the opportunity to meet the people I did last summer.