« All Posts by this Blogger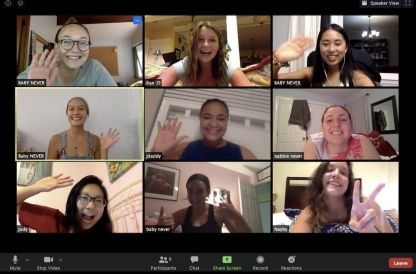 Staying (Virtually) Connected to Dartmouth
Because of the pandemic and other life situations, I haven't been on campus in 11 months. It still feels super weird typing that out, because, despite how long it's been since I was physically on campus, my sense of belonging as a Dartmouth student has never wavered. Both formally and informally, I've found ways to stay connected to my Dartmouth friends.
In a normal Dartmouth term, one of the most common ways I've made friends is through classes. Sitting next to a classmate for an 8 am lecture and doing problem sets into the early morning are some of the fastest ways to bond with people. While that's not totally replicable on Zoom, many of my classes have focused on small group work and being in a breakout room with three other people for ten weeks also builds a sense of group camaraderie. Office hours are also very accessible in the virtual setting, so I've had ample opportunities to get to know my professors and ask questions about course material.
Outside of the (virtual) classroom, I'm also involved in a couple of campus clubs. Unfortunately, a lot of them revolve around volunteering in-person, but I still go to a few weekly meetings. Dartmouth Democrats, the women's club water polo team both meet every week to maintain connections and accomplish as much as possible in these difficult circumstances. The water polo meetings are particularly rewarding because some of my closest upperclassmen friends are on the team. Additionally, we've had important discussions about social justice and our role as a team and as individuals.   
Greek life, which is a big part of Dartmouth's campus life, has also found ways to switch to virtual platforms. The rush process, which was all on Zoom this year, was a great way to meet people from many different corners of campus. I ultimately decided not to join a Greek house this year, but I did go through part of the rush process and had good conversations a ton of new women. My friends who did join houses have also had lots of fun getting to know their housemates, through virtual bid nights and weekly meetings.