« All Posts by this Blogger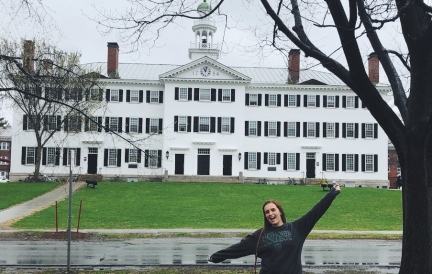 My Jobs on Campus!
Before coming to campus, I knew I wanted to find a way to earn money, but I wasn't sure what that would look like at Dartmouth. I was also nervous that the fact that I needed to work would detract from my extracurriculars and academics. Now, just one quarter into my freshman year, I've been lucky to find four jobs which each align with different areas of interest. Because I'm genuinely interested in each of my jobs, they enhance my classes and extracurriculars rather than take away from them.
WISP
Before I was even accepted to Dartmouth, I knew I wanted to get involved in research on campus. I was a little worried about being able to devote my time to an unpaid position, so when I learned about the Women in Science Project (WISP), I was super excited. All WISP internships are fully funded, meaning that I can devote a ton of time to research that I'm interested in without having to juggle another time-consuming paid job. I applied and began interviewing in the fall of my freshman year and was super excited when I received a placement in Dr. Alireza Soltani's computational and cognitive neuroscience lab! I've only been working in the lab for a few weeks, but I'm excited to combine my interest in neuroscience with computer science, a field which is totally new to me.
America Reads
America Reads is a federal work-study program that operates through the Center for Social Impact at Dartmouth. In my freshman fall term I was looking for something to fill my free time when I got a campus wide email (or blitz, as we call them) about the program. Essentially, the program sends Dartmouth students to elementary schools around campus to encourage reading and tutor kids in kindergarten and first grade. Getting off campus to work with kids is super rewarding and the fact that it is a funded program makes it even better! Plus, I enjoy knowing that I'm having an impact on the community around Dartmouth.
This blog!
As someone who's interested in majoring in English, when I saw the opportunity to work as a writer, I couldn't apply fast enough! I've never done any writing outside of my journal (which has never seen the light of day) and writing for classes, so I feel super fortunate to have the opportunity to try it out during my freshman year. I also genuinely love Dartmouth, so I'm excited to share my reflections on the experiences I've had so far with prospective students
Notetaking
This job is one that I just started recently, but it's been a super convenient way to fund my love of frequent Hanover coffee shop visits. Basically, I work for the Student Accessibility Office by sending in my notes from my Latin class. My notes are then used to help other students in my class who need them. It's great because I have to take notes anyways, so it's not a huge time commitment and I can balance it with the rest of my schedule.