« All Posts by this Blogger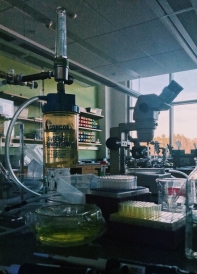 My Freshman Winter Classes: Latin, Writing, and Genetics
After reflecting on my first term at Dartmouth, I decided to continue on the pre-med track and to begin taking some required classes during my second term. There are three types of required classes at Dartmouth: language, writing, and general education (or distribs as we call them). The language requirement can be exempted by demonstrating proficiency in a second language, but I came to Dartmouth with a pretty limited language background. This brings me to my first class of winter term…
Latin
I studied some Spanish in high school but coming into Dartmouth I wanted to try something new. I'm also interested in medicine and English, so Latin complements both of those fields. The class is set up in small sections of about fifteen people which meet four times a week. I've enjoyed having a small language class because in high school, my language classes were about double that size, so it was difficult to for the teacher to give everyone feedback. Here, the class is small, and we do a ton of translation work in groups of three or four. My class also has two upperclassmen Learning Fellows, who are advanced Latin students. They work with my professor to offer a ton of individualized feedback and host frequent office hours (usually with pizza)!
First-Year Writing: Experience and Education
My next class is also a small class and is a part of the first-year writing requirements. It is called "Experience and Education" and is a seminar style class that approaches writing through the lens of education. We read and discuss texts about the history and current state of education. My professor is also interested in theater, so we watch movies and read scripts to analyze in class. Like all first-year writing classes, the goal of the class is to teach everyone how to write at the college level, so my classmates and I spend time giving each other feedback. Also, because the class is small, my professor is able to give personalized feedback to everyone on most assignments.
Biology 13: Gene Expression and Inheritance
My third class of this term is a class on the pre-med track, which is super challenging and interesting. The structure of the classroom is flipped, so I watch prerecorded lectures before class and then work with my group to solve problems. Most of my biology experience before Dartmouth relied heavily on memorization, but this class is very different. I spend most of my time learning how to think like a geneticist, rather than regurgitating what people have previously said. The class itself is large, but we work with the same small groups every day, so it feels much smaller because I've become friends with everyone in my group.