« All Posts by this Blogger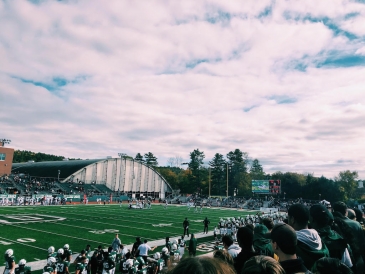 Give a Rouse! It's Homecoming!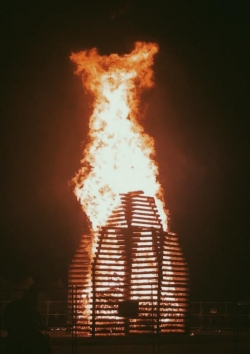 On the day I committed to Dartmouth, I remember calling my granddad, a member of the class of '56, and telling him about my decision. We talked many times before about his experiences at Dartmouth, but in my first conversation with him as a committed student, I remember him being so excited for me to experience Dartmouth traditions, especially Homecoming. This past weekend, I finally had the chance to see first-hand just how special Dartmouth traditions are as I walked around the Homecoming bonfire, just as he did 67 years ago.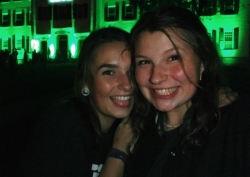 For me, homecoming weekend started on Friday afternoon when a couple of the clubs I belong to hosted social events. It was great to take a break after my week of midterms and bond with upperclassmen outside of practices and meetings. Then, I joined my housemates for pizza and temporary tattoos. After consuming copious amounts of cheese bread and jamming out to throwback hits with my dormmates, we lined up to join the rest of the Class of 2023 in a parade around campus. The parade stopped at each freshman dorm until everyone was walking together towards the Bonfire. This is one of the last times our entire class is together before graduation, so walking as a unit, past rows of alumni and upperclassmen, was super special to me. Finally, after parading all the way around campus, we circled the 30-foot bonfire burning in the center of the green. It sounds a bit cultish, but there's nothing like a massive, structurally-sound fire surrounded by thousands of people to remind you what the Dartmouth community is capable of. After the freshmen's march around the Green, there were lots of events hosted around campus including a late-night breakfast served in Collis Common Ground! The waffles were so good!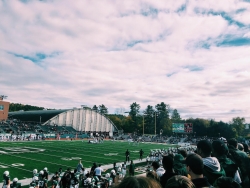 On Saturday of Homecoming weekend, I slept in, grabbed brunch in the Class of 1953 Commons, and headed over the football game! There are a few football players I've met on campus, so it was super fun to get to cheer them on. I think that's one of the coolest things about Dartmouth's size – it's small enough that I know a couple of football players, but big enough that I can always find a new face to sit with in the student section. The football team's resounding victory over Yale (42-10!!) wrapped up my homecoming weekend festivities, so I headed back to my dorm to do homework and enjoy some down time. As I walked back from the football field, I felt an overwhelming gratitude that I am able to share in centuries-old traditions, a feeling that I hope any prospective students reading this will one day share.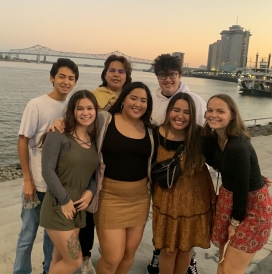 But at the end of the day, when people ask me what my favorite Dartmouth memories are, I'm always thinking about the place. Ice skating, pink sunsets, riverbanks, or canoeing? That's my highlight reel.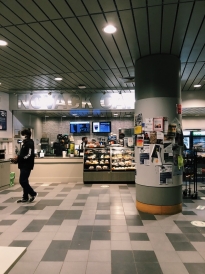 In a world where proper social distancing is so important, Novack Café has fulfilled a unique desire for current on-campus students; it's a place to study, hang out with friends, and grab a snack—all while staying COVID safe.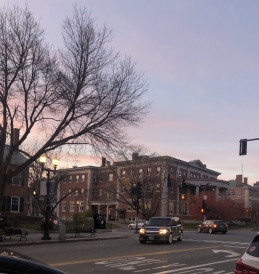 The last week of October was especially ~spooky~ as I was able to find more time than usual to enjoy my weekend with friends and the small-town-charm of Hanover.

While the student body at the College may be relatively small, students here recognize that their vote can hold a lot of weight in New Hampshire, a classic swing state.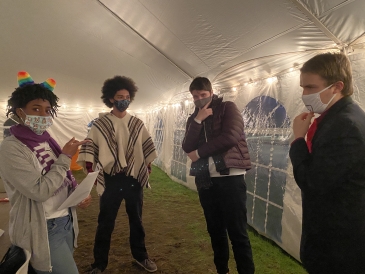 After walking around campus all day in eye-catching attire, we headed to a Murder Mystery night hosted by Phi Tau (a fraternity) in one of the tents scattered around campus.

On Friday, a few friends and I decided to take part in an event held by Collis After Dark, which organizes a lot of the student programming on-campus.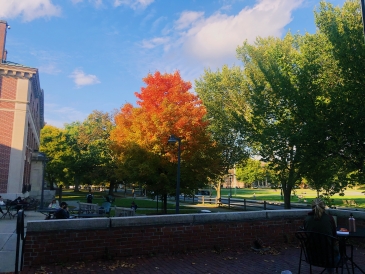 My personal visit to Dartmouth was a huge factor in my decision to apply, so in honor of Week 7, I hope this blog post can virtually illustrate some of what Dartmouth has to offer in seven images – worth 7,000 words!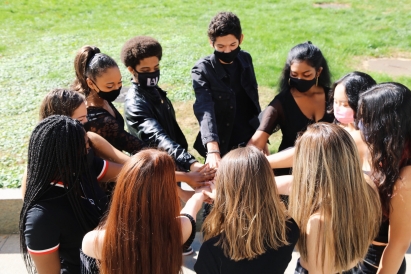 As a member of multiple performance groups on campus, I thought I'd give you a bit of background info on the opportunities here and discuss what we've been up to!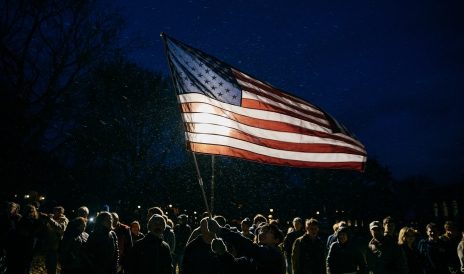 In honor of Veterans Day, I was able to interview student veteran Eugene Lovejoy '22 to hear about his experiences in the United States military and as a Dartmouth student. Read on to learn more!