« All Posts by this Blogger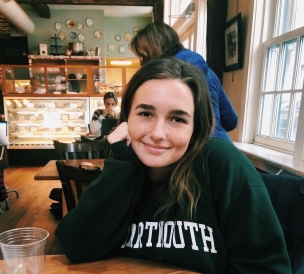 Coffee Consuming on (and off) Campus
Growing up, I woke up every morning to the smell of my mom's brewing coffee. As I got older, I fell in love with the energy of coffee shops, especially local ones. I always meet someone friendly and feel super productive when I spend time supporting and studying in small shops. Luckily, I've found lots of great options in Hanover to fuel my constant coffee consumption.
Before I even matriculated, I visited Dirt Cowboy Café during Dartmouth's admitted student day. At the time I didn't know much about campus and was looking for something quick, so Dirt Cowboy's location just across the street for the center of campus made it super convenient! In addition to its great location, Dirt Cowboy is known for its wide variety of beverages and an atmosphere that great for conversations. Now, I usually visit when I'm catching up with the leader of my Bible study group. Because Dirt Cowboy is located in the center of the Hanover community, it's convenient for both of us and provides a good space for me to stay in touch with my spirituality.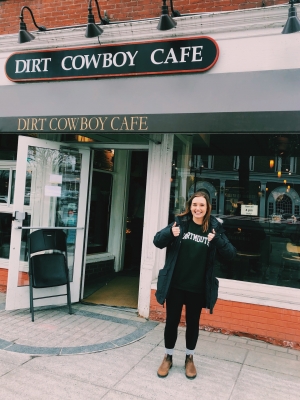 The next local coffee shop I tried actually occurred during a class trip. In my freshman fall, I took an introductory poetry workshop, and one day, my professor sent me and my classmates to write poems in Umpleby's Bakery and Café. It is quiet, has spacious tables, and lots of outlets, so it was perfect for writing and is still one of my favorite spots when I want a quiet break from campus. Plus, the baked goods at Umpleby's are delicious and super affordable!
One of the newest small businesses in Hanover is the Still North Bookstore, which was opened this year by a Dartmouth alum! Still North is right off of Main Street and is only a seven-minute walk from my dorm (that's the beauty of the small-town life)! This term, I'm done with classes everyday around 12, so I spend a lot of afternoons at Still North doing work and enjoying their iced coffee. They have sofas, yummy food, a puzzle table, and are open until 10 pm, so it's perfect for long study sessions. Plus, I almost always see a friend or professor, so Still North feels like an extension of the Dartmouth community.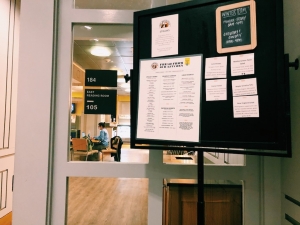 Finally, when I'm craving coffee or pastries on campus, I visit the King Arthur Flour café. KAF, as we like to call it, is super popular with students because it's covered by our meal plans and offers fresh food and drinks. It is also inside the main library on campus, so it's super convenient to stop by between classes or in the middle of studying.