« All Posts by this Blogger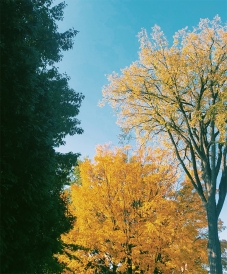 Changing Leaves & New Experiences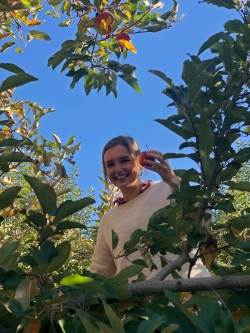 As a student from South Carolina, experiencing my first New England fall has definitely been one of the highlights of my first terms here at Dartmouth! Everyone said that fall was a special season on campus, but I figured it wouldn't be all that different from what I'd previously experienced – I was wrong about that! Thanks to the cool temperatures and wide variety of trees in New Hampshire and Vermont, the tree tops surrounding campus turn began to turn into a quilt of reds, oranges, and yellows at the beginning of this term. As I've watched the leaves change colors, I've also found that there are a ton of ways to enjoy fall, on and off campus.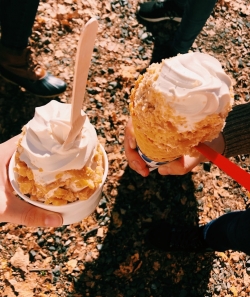 My favorite experience so far has been visiting a local apple orchard to pick apples, try apple cider, and explore a corn maze. The farm also offers Maple Creamees, a regional dessert that involves a delicious combination of soft serve ice-cream and maple candy sprinkles; if you're ever in the area, you have to try one! I went to the orchard with Christian Union, one of the groups I'm involved with hear on campus, but there are a ton of other student organizations that also sponsor apple picking trips. I have friends that have gone with acapella groups, sports teams, and engineering clubs, so whatever you're into, there will be an opportunity to explore a local apple orchard.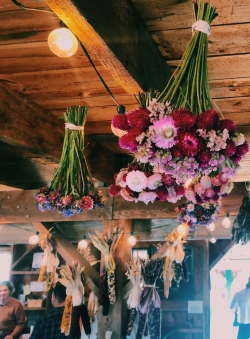 Another great way to experience the fall foliage around campus is by hiking through it! The Dartmouth Outdoors Club, or DOC as we like to call it, leads hiking trips of various skill levels every week, so it's easy to get outdoors whether it's a short hike after class or an eight-mile trek on a Saturday. The DOC also loans out any gear you might need, so being involved is accessible even for those with limited hiking backgrounds. Another uniquely-fall, uniquely-Dartmouth experience, is the Spooky-Scary-Full-Moon-Night-Hike, which is pretty much exactly what it sounds like and is super fun!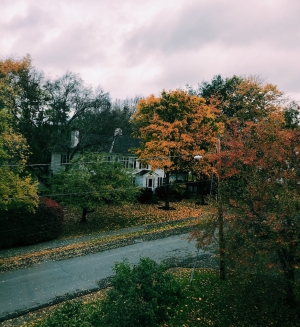 Visiting an apple orchard or take a hike are great ways to enjoy fall, but I also love how easy it is to enjoy the outdoors in my day to day life. Because Dartmouth is not in a big city, mountains are visible on my walks between classes and most of my favorite study spots have a view of the fall foliage. Whether it's eating at the campus wide Fall Harvest dinner, studying beneath the trees on the green, or enjoying hot apple cider with my friends, I've enjoyed everything that fall here at Dartmouth has to offer and I can't wait to explore the snow-covered campus this winter!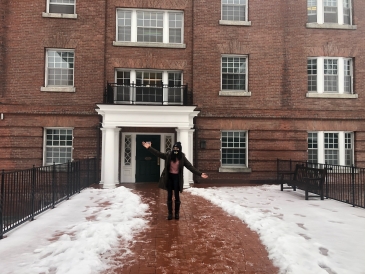 I have officially settled into my new dorm! Come take a peek at what residential life is like, and some opportunities that might come after the quarantine!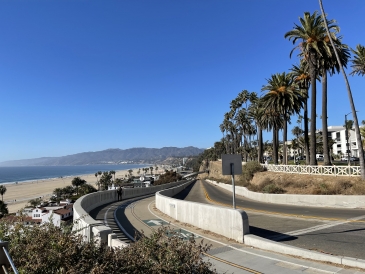 After a six week break, I'm back. My winterim was a fun mix of staying at home, binge-watching Survivor, celebrating the holidays, and enjoying the Southern Californian landscape, so I'm feeling refreshed to dive back into blogging!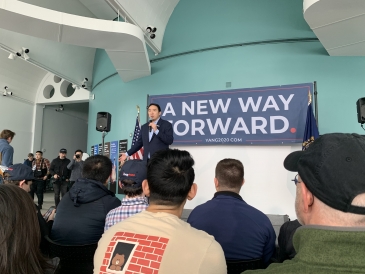 One of my favorite things to do as a Dartmouth student is going to all the various talks, lecture series, and events that the school holds throughout the year. Here's why!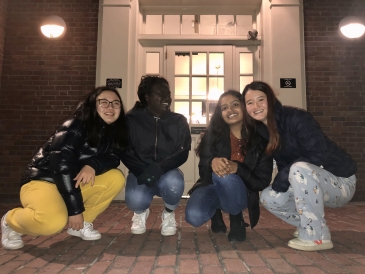 A school had to meet three criteria for me to consider it a "good fit": academics, location, and community. After researching about Dartmouth and visiting the campus, I realized that this school was not a good fit for me-- it was a perfect fit.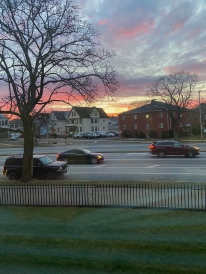 Winter quarter has begun and my life is extremely different from how it was this fall!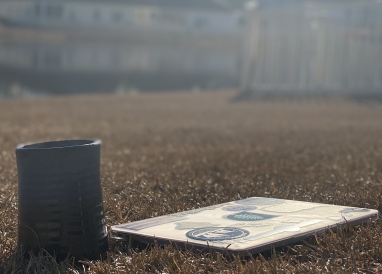 This winter, I will resume classes on campus again -- a little older, a little wiser, and yet no less excited to fall countless times while attempting to ice skate. Upper Valley winter, here I come!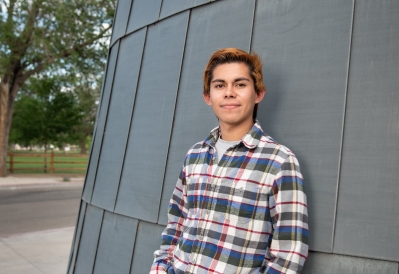 This term, I'll be returning to campus for the first time since March 2020, and I could not be more excited!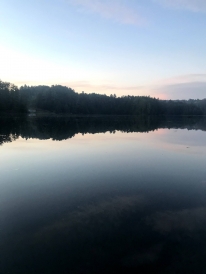 From the pandemic to the election, to online learning, every month seemed to be a new level of Jumanji. However, we have made it. And though 2020 has given me great lessons and experiences, I am looking forward to this new year and for what it holds.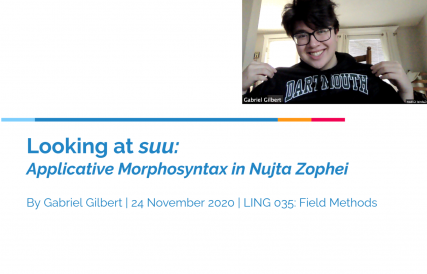 Over the course of my sophomore fall, I had the opportunity to take a linguistics field methods class. During the course, we had the one-of-a-kind opportunity to study the Zophei language from Myanmar!