« All Posts by this Blogger
Winter Carnival ideas for people who don't like winter
Unpopular Dartmouth opinion: I am not a huge fan of the cold. I don't know how to ski or snowboard, and I think it's absolutely frigid when the temps drop below 30 degrees Fahrenheit. That means, out of the three "big weekends" at Dartmouth (Homecoming, Winter Carnival, and Green Key), Winter Carnival is my least favorite. I have absolutely zero desire to jump in freezing cold water (why do people like the Polar Bear Swim?!) or spend quality time with blocks of ice. I do, however, like the cozy parts of winter. Here are my ideas for fun things to do over winter carnival with no risk of hypothermia.
Have an Olympic watch party! This year, the Winter Olympics coincide with Winter Carnival weekend. Take advantage of your free xfinity on campus and host a viewing party! If it's not an Olympic year, try a Winter Olympics themed movie, like Cool Runnings or Blades of Glory.
Get together with friends to bake cookies and drink hot cocoa. Use one of the dorm kitchens (McClane has the best ones). You can get pre-made cookie dough at Collis Market, or -- for more fun -- head to the Co-op for raw ingredients to make your own!
Scope out "official" indoor Winter Carnival events. The Hop always hosts special arts events, like movie showings and special music, dance, or theater performances, during big weekends. There are also lots of themed events with free food in Collis or Sarner Underground that involve crafts, music, or dancing.
Check out concerts held at Greek houses. A-cappella groups, improv troupes, dance teams, and live bands make use of Greek houses to put on shows all term. You just might find a new campus group to become a fan of.
Put on as many layers as possible to watch people do the Polar Bear Swim. Something about watching people jump into freezing water while you're bundled up makes you feel all the warmer.
Still wishing for warmer weather? Beat SAD (Seasonal Affective Disorder) by taking a trip to the saunas in the Alumni Gym. If you close your eyes, you can almost convince yourself you're on a beach in Cancun.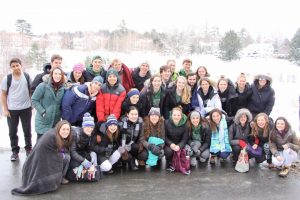 =With those tips in mind, you are properly armed to avoid the outdoors at all costs this Winter Carnival. I'll leave you with this: Dartmouth is all about tradition. I think every Dartmouth student should experience Winter Carnival to its fullest at least once during their time here as an undergrad. A lot of fun can be had carving ice sculptures, skiing on 99 cent day at the Skiway, or during human dogsled races, but there is also no shame in wanting to cozy up indoors for most of it. That's where you'll find me!